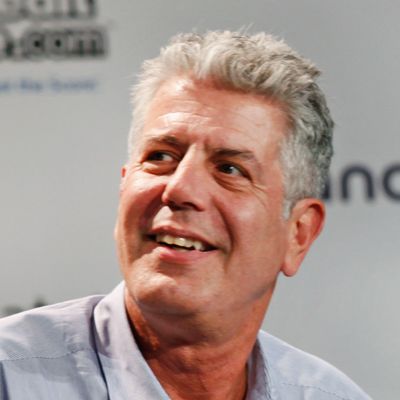 News man.
Photo: Sean Mathis/WireImage
For all the fires that Anthony Bourdain has irons in at the moment — his Travel Channel shows (which Eater confirms will soon end), a killer publishing deal with Ecco — we didn't expect this: According to CNN, Bourdain will launch a weekend news show on the network in 2013.
Per the official announcement, the as-yet-untitled show "will be shot on location and examine cultures from around the world through their food and dining and travel rituals." It will debut early next year and will air on Sunday nights. As part of the deal, Bourdain will also be popping up "on other CNN programs and platforms," which we can only hope means we'll see a Bourdain–Anderson Cooper gigglefit sooner rather than later.
Update: Here's the full release:
ANTHONY BOURDAIN, WORLD-RENOWNED CHEF, AUTHOR AND TELEVISION PERSONALITY, JOINS CNN/CNNI TO HOST NEW WEEKEND PROGRAM

Launching in Early 2013 on CNN & CNNI, Program Expands CNN's Coverage of Food and Travel; Bourdain to Also Offer Commentary Across CNN Programs

World-renowned chef, bestselling author and Emmy winning television personality Anthony Bourdain will join CNN as host of a new weekend program, creating a signature showcase for the network's coverage of food and travel. The announcement was made by CNN Worldwide Executive Vice President and Managing Editor, Mark Whitaker.

"For more than a decade, Anthony Bourdain has been a trailblazer in educating Americans about different cuisines and cultures around the world, as well as an outspoken commentator on social trends ranging from the rise of celebrity chefs to the impact of fast food chains to the spread of vegetarianism and veganism." said Whitaker. "Examining the world through the prism of Tony's unique expertise and passions continues CNN's long-standing commitment to international reporting and to promoting global understanding."

Launching in early 2013, the show will be shot on location and examine cultures from around the world through their food and dining and travel rituals. Slated to air domestically on Sundays in prime time with repeat airings on Saturday nights, it will mark a further step in broadening and distinguishing CNN's weekend programming from its traditional weekday news coverage.

The series will be produced by Zero Point Zero Production with Executive Producers and Founders Chris Collins and Lydia Tenaglia, along with Executive Producer Sandy Zweig. The Emmy award winning Zero Point Zero Production has been working with Anthony Bourdain for over a decade, producing Anthony Bourdain: No Reservations, The Layover, A Cooks Tour, and Decoding Ferran Adria.

Bourdain, whose reporting has taken him from the culinary capitals of Europe, Asia and North and South America to such historically war-torn or isolated regions as Vietnam, Mozambique, Uzbekistan and Romania, will also offer commentary on other CNN programs and platforms, domestically and internationally, providing insights into current events and debates around food and health and other cultural conversations.

"I'm really looking forward to coming over to CNN. I think the world is going to get a whole lot bigger for me," said Bourdain. "I hope that old fans and new ones will be excited about what's coming down the road."

Bourdain has been the host of the award-winning Travel Channel series Anthony Bourdain: No Reservations since 2005. He previously hosted A Cook's Tour on the Food Network and has appeared on Bravo's competition series Top Chef and written for HBO's New Orleans-based drama Treme. He is also the author of critically acclaimed non-fiction and fiction books, including the New York Times bestsellers "Kitchen Confidential and "A Cook's Tour." He now oversees his own line of books from Ecco, a division of HarperCollins, the first three of which are scheduled to be released in 2013.
Bourdain's many accolades include Emmy awards for programs on Haiti and Laos, and an Emmy nomination for an episode of Anthony Bourdain: No Reservations, which was shot in Beirut during the 2006 Lebanon War.
Anthony Bourdain Joins CNN to Host New Weekend Program [CNN]
Related: The Anthony Bourdain Brand