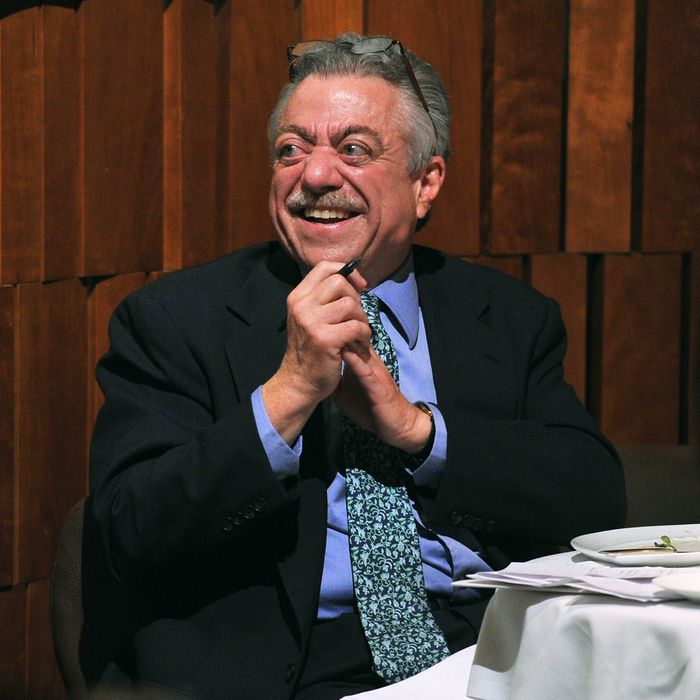 Richman, enjoying last night's roast.
Photo: Theo Wargo/Getty Images
Last night, Alan Richman was the center of attention at a GQ roast held in his honor at Le Bernardin. Of course the criticisms lobbed his way during the event were of the "all-in-good-fun" nature, but when we caught up with him, we wondered what he thought of one decidedly less-friendly attack. Specifically, we wanted his take on the knock Bloomberg critic Ryan Sutton directed at Richman after the GQ critic took home this year's Distinguished Restaurant Review Award from the James Beard Foundation. Richman didn't hold back.
First, the quick recap: One of the stories for which Richman won this year's award was "Diner for Schmucks," his complete evisceration of M. Wells. The piece itself drew a slew of reactions when it was released last fall, much of it negative. And last week, Sutton called it, on Facebook, "arguably the most irresponsible piece of restaurant criticism I've read in a long time." The day Richman won a Beard award for that story, Sutton wrote, was "a dark day for food writing." The comments were later picked up by Eater. So what did Richman think of Sutton's comments?
"To me, he's a second-rate writer and a third-rate critic," Richman responded. "Not only was he inappropriate in doing it but he didn't back up anything he said. I mean, why doesn't he get off his Bloomberg butt, do some reporting and find out if I was right or not. It was just a cheap shot, beginning to end, a cheap shot. But, did anyone else complain? Who else?"
We pointed out that the Eater post hadn't exactly disagreed with Sutton's comments. (The post called the Beard choice "bizarre" and said the piece was "basically a rant.") "Eater is insane," Richman shot back. "I mean, if I'm running Eater, and I should be, I would just tell whoever did that blog post — that idiot who did that blog post — just present what the other guy said, but why did he agree with [Sutton]? It was so stupid."
As for the story itself, Richman told us that it's "probably the most carefully written, edited and fact-checked story I have ever done. There was absolutely nothing wrong with that story, and his complaint was that he found something wrong with that story." He added, "I'm not saying it was great or anything, but I just thought it was important and a very well done story."
Earlier: Sacre Bleu! Alan Richman Tears M. Wells Apart in GQ