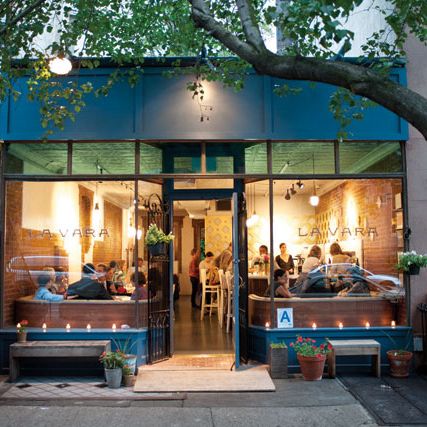 La Vara.
Photo: Danny Kim
In this week's New York, Adam Platt checks out two Brooklyn newcomers, La Vara and Gwynnett Street. At the former, husband-wife proprietors Alex Raij and Eder Montero (El Quinto Pino, Txikito) "see Brooklyn less as a refuge or escape than as a promising market for their particular brand of casually elegant (i.e., Brooklyn-style) gourmet cuisine." Here they address "the intertwining influences of Moorish and Jewish recipes on classic Spanish cuisine," with dishes like Gibraltar chicken hearts, "soft, perfectly sizzled lamb's breast," and "the tricky ­Valencian noodle paella dish fideúa"; our critic doles out two stars.
Gwynnett Street, meanwhile, "is another deceptively scruffy Brooklyn establishment with outsize, Manhattan-style ambitions." Here a "pedestrian-sounding slow-poached-egg appetizer," is "plated with garden peas, sprigs of celery lettuce, and little spiky antennae of what turn out to be crispy, flattened pork fat." Our critic concludes, "Nothing my bedazzled tasters and I sampled was disappointing, and some dishes (the sea scallops with stinging nettles, the salmon smothered in an opulent oyster cream) are themselves worth the trip"; he awards another two-spot.
And it's time to think about summer drinking. Handily, the magazine has compiled its annual "Where to Drink" guide. This year's addresses important trends in the drink-o-verse, including the new bottle service (for bottle-service haters), daytime cocktails, and the old Russian places versus the new Russian places.
Rob Patronite and Robin Raisfeld address the way the new Mile End Sandwich's lack of seating "forc[es] customers, to the consternation of Jewish grandmothers everywhere, to slurp their matzo-ball soup standing up." Discussion ensues.
The Robs also get the story on Potlikker, the new rural American spot from former Queen's Hideaway proprietress Liza Queen. And fruit or vegetable status be darned, rhubarb is tasty, particularly in this recipe for a classic rhubarb-and-ginger fool.