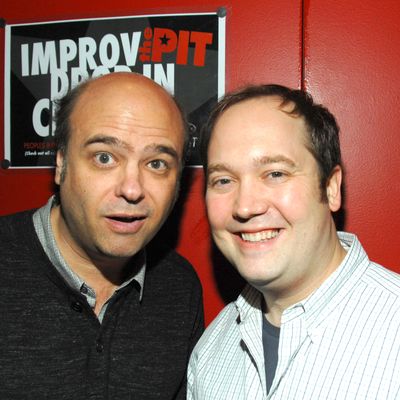 Poor, misguided souls.
Photo: PAUL BRUINOOGE/Patrick McMullan
Anybody familiar with Chicago-style deep-dish pizza knows that it is "pizza" in name only. In reality, it's more like some kind of crusty, saucy, pizza-flavored casserole-quiche hybrid. That's not just New York homerism speaking; it is the objective truth. We're not saying it's bad; we're just saying it ain't really pizza. And yet at this past weekend's Story Pirates benefit event, former Chicagoans and current 30 Rock cast members Scott Adsit and John Lutz each told Grub Street that it is superior to New York — a.k.a real, actual, honest-to-God — pizza.
"I would have to say I miss the food in Chicago when I'm away from Chicago more than I miss the food in New York when I'm away from New York," Lutz told us. He told us he misses the Chicago-style hot dogs (which are admittedly great), the gyros (of which there are plenty in New York), and the deep-dish pizza. "It's all bad for you," he added. "I gain ten pounds every time I go back."
When we asked Adsit, who plays Pete, which city has better food, he told us — with a straight face no less — that Chicago wins out: "We have better pizza."
No word on where Tina Fey or native New Yorkers Alec Baldwin and Tracy Morgan stand on the issue, but since some of 30 Rock's episodes run with an eerie parallel to Grub Street stories, we'll hopefully get to the bottom of it with a plot line during the show's final season next year.
Related: Tracy Morgan Really, Really Likes the New Benihana
S.F.'s Louboutin Attacker Referenced on 30 Rock