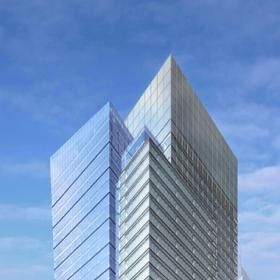 Da!
Photo: SJP Properties
Guy Fieri's new restaurant is getting some competition: A Russian restaurant group has signed a retail lease for a combined 25,000 square feet, spanning a portion of the first and entire second floor of the 40-story tower 11 Times Square. The Petersburg-based Global Food International Corporation operates 54 restaurants worldwide; the unnamed new endeavor will have an open kitchen and "will feature several partitioned eating areas serviced by traditional restaurant waitstaff." Oh, and each area will "feature different ethnic cuisines."
Will this project be the Russian Eataly, or maybe more of a slam-bang Michael Bay joint? Its "traditional" and "ethnic" components sound a bit to us like the legendary Café de l'Opera, a giant restaurant that once stood two blocks away from 11 Times Square, pretty much one hundred years ago. (For the uninformed: Café de l'Opera had a 30-foot fountain and life-sized bronze figures depicting Assyrian court life. So, you know, understated.)
Because little is known about Global Food International, the Russian food company holding the reins, we're not sure if 11 Times Square is due for an epic dining spectacle or a mundane food court. Maybe it'll be an epic food court? After all, this is the same building that once almost had "sharks, rays and penguins on the lower floors." Anyway, the restaurant will announce its name later this year, with a projected opening in 2013.
11 Times Square Signs 25,000 s/f Retail Deal [Observer]
SJP signs restaurant to 25,000 s/f at 11 Times Square [Real Estate Weekly]