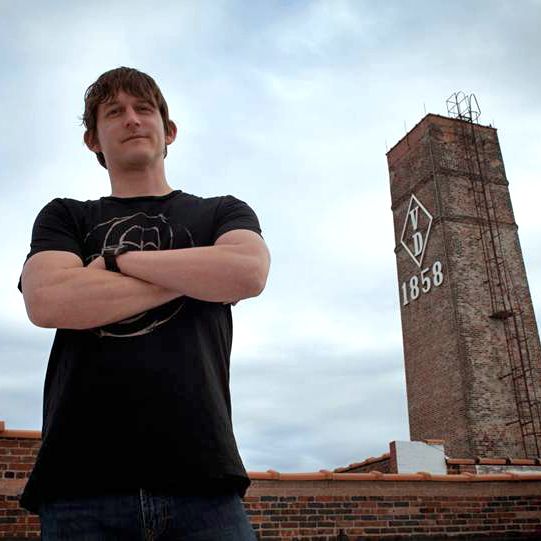 Joshua Riccholt, outside the venue's former-brewery digs.
Photo: Selene Preston, Impossibly Pretty Camerawork
The Paulaner beer house on the Bowery isn't the only suds venture in the works: News broke a few months back that a couple of alums from the Knitting Factory were planning a destination beer garden (the Well) and music venue (the Wick) in a former brewery space in Bushwick. We spoke to co-owner Joshua Richholt (also formerly of the Jazz Standard), who told us the Well should open this summer, while the Wick is slated for fall. The Well is a "public house," as Richholt describes it, with a 4,000-square-foot interior complete with 30-foot ceilings, and an 11,000-square-foot backyard. He and partner Shay Vishawadia will offer 60 beers on tap and another 200 in bottles, with every brewery in New York State represented.
Richholt is excited about the space itself, a "huge old brewery circa 1875," with "great German architecture" in the form of intricate brick work and steel girders, "a lot of detail nobody bothers to do anymore because it's so expensive." The building's street was once known as "brewery row" and home to seventeen suds factories; the great part now is that Riccholt expects it to be pretty immune from noise complaints. "It kind of becomes a ghost town at night," he said.
When the Well's backyard isn't holding up to 1,000 people for beer and food, including burgers and pulled pork sandwiches from the folks behind Urban Rustic, plus Schaller & Weber sausages, Richholt tells us they plan to host a farmer's market, food events, and even curling in the winter (an homage to his Canadian roots). Meanwhile, a few doors down, the Well should be a destination music venue with a capacity of 400 to 800 and a "neighborhood rock bar" up front. The whole thing sounds pretty darn exciting; keep your eye on this space for more.
The Wick & the Well, 260 Meserole St., nr. Bushwick Ave., Bushwick