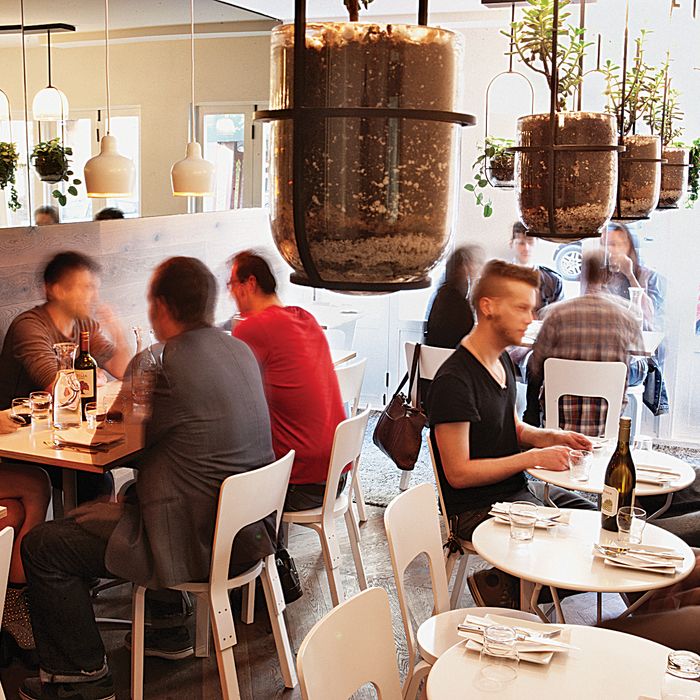 The Toucan and the Lion.
Photo: Danny Kim
In this week's New York, the Underground Gourmet takes on "four-month-old self-styled Asian gastropub" the Toucan and the Lion. What is an Asian gastropub?, you ask. Seems it's somewhere you can order a burger "slathered with cashew butter, topped with bacon, and served on a Chinese bao bun with a side of deep-fried pickles." Also, more "oddly intriguing morsels," including Scotch eggs "cloaked in duck sausage," sweet-potato patatas bravas, and "duck-confit mofongo with Chinese sausage." Even cocktails are "meticulously conceived and deftly executed," particularly the "Sriracha-spiked Lion, a kaffir-lime-and-ginger-­infused rum drink served up." And even the space is "a pleasant surprise"; the restaurant earns three stars.
Meanwhile, the Underground Gourmet has also been sniffing out the new crop of potato chips. Several varieties hail from Italy, including the just-launched-in-the-U.S. Amica, and another great one comes from the Greenmarket. On that note, goat cheese has a season, so don't miss your chance to try Blue Ledge Farm's Lake's Edge variety, which tastes great on an ultra-seasonal sandwich with ramps. And it's not seasonal, but it's pretty exciting: worldwide Lebanese chain Almayass has opened a New York branch.