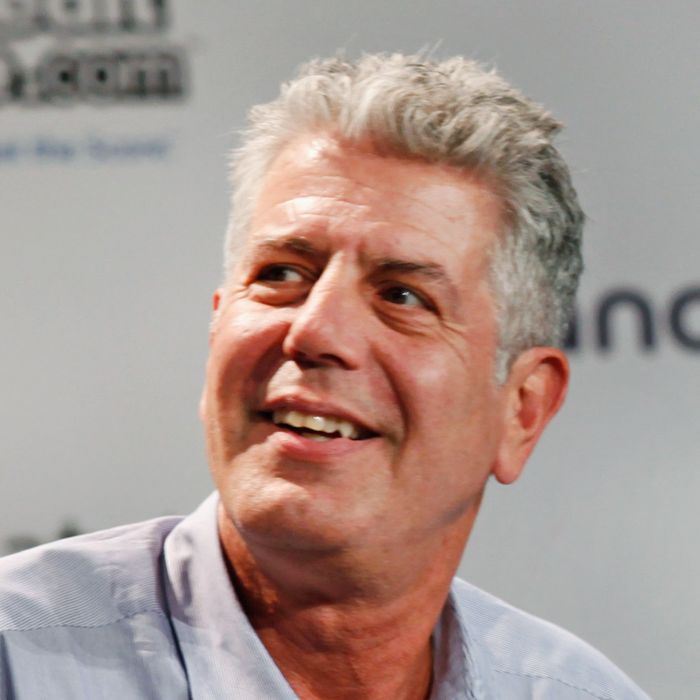 Bourdain.
Photo: Sean Mathis/WireImage
As No Reservations gears up to launch its eighth season this Monday, it's become clear that the show's host, Anthony Bourdain, is no longer simply a talking head. He's become as responsible as anyone for shaping the world of food in America, whether it's ushering in the era of the pork overload or inciting legions of hipsters to wax poetic about street food. He has transcended the role of TV personality to become an opinion leader: He has his own book imprint with Ecco and he writes Treme episodes with David Simon. He's the human Approval Matrix of the food world, a high-low cultural arbiter with a persona that's designed — some would say consciously — to stir the pot.
If you've seen No Reservations or his other show, The Layover, then you know that Bourdain's TV world is a romantic one: One minute he's feasting on tacos at the best dive in Mexico City, the next he's breathing in the rarefied air of L.A.'s Chateau Marmont. He travels, he writes, he eats, he tweets trash about his boss when the boss makes him mad, and he's "hungry for more," if we're to believe the little jingle that kicks off each episode.
Bourdain's emergence on the TV scene with his show A Cook's Tour presented a "gesture of denial against domesticity," which had until then had been the go-to mode for on-set cooking shows, as NYU food studies professor Krishnendu Ray pointed out in 2007 for Gastronomica. Bourdain, in comparison, hearkened back to the traveling gentleman gourmand (like those featured in the earliest issues of Gourmet), and he quickly won a following (and two Emmys for No Reservations). People who love Bourdain — chefs who range from Eric Ripert to Eddie Huang; authors and co-workers; the 813,482 people who follow him on Twitter — really love him. His cultural reach is vast, and loud: When Paula Deen announced her diabetes diagnosis, Bourdain, not Deen herself, was the first person many writers turned to for a comment.
"He is what all of us want to be," Ray told me. "Especially the boys. He doesn't follow other people's rules." That much is obvious, but the appeal goes deeper: "He is a literate guy, and a really, really good writer," Ray continues. Bourdain's success, in Ray's eyes, is thanks in part to his populism and his appreciation for culture both very high and very low: He is "the anti-connoisseur's connoisseur." New York Magazine's Adam Platt, who says he loves Bourdain, sees another way that Bourdain plugs into the Zeitgeist: "He speaks to a new generation of food people that doesn't worship the classic French chef, but does worship the guy in the kitchen with the tattoos and the music blaring — he's the voice of the kitchen slave."
Yet many of Bourdain's fellow food-television personalities seem to resent his very existence. Recently, Sandra Lee called him out publicly for his "schtick"; Deen characterizes him as "very cruel"; and Frank Bruni, the former Times restaurant critic and current "Op-Ed" columnist, decried Bourdain for elitism last summer, calling him a member of "the culinary aristocracy," which in Bruni's view carries with it "an often selective, judgmental and unforgiving worldview."
Neatly summarizing this divide between Bourdainiacs and haters, Gary A. Fine, a Professor of Sociology at Northwestern and author of a book on kitchen culture, writes, "Some love his bravado, while others find his arrogance appalling."
Bourdain himself, when asked, will tell you he actively avoids any kind of self-analysis: "I try really, really hard to not think about what people want or like or dislike," he told me over the phone. "And if I start thinking like that it leads to calculation … I don't think about the audience. I think about the people I make television with a lot — what is interesting to us." That means his sets aren't full of handlers and people feeding him lines: "I am constitutionally unable to endure that shit. If this isn't real, and fun, or at least interesting, then there's no point."
But what about his off-the-cuff comments and remarks — like famously calling Sandra Lee "pure evil," — which arguably generate more traction and notoriety than his shows and books (and plenty of publicity)? "I absolutely do NOT see myself as an arbiter of anything," he e-mailed me. But "If you ask me a question, I will try and tell you honestly how I feel. That gets me in trouble. It also makes me an easy lay for page views." On that last point, he's right. More often than not, his commentary isn't just pointed or contrarian, it's funny — and frequent. "I don't have my own PR looking to get me 'out there,'" Bourdain assures us. "I'd rather watch Winx Club with my daughter. But if asked? More often than not, I will answer."
According to Dan Halpern, Bourdain's publisher at Ecco, the frankness isn't the only Tony trademark — a strict code of ethics is, too: "He's a really moral guy," Halpern says. "All of the wise-ass stuff — it's him in a way, but it's not really him." The 2006 Beirut documentary strengthens this point: Bourdain and his crew are stuck in a hotel as bombs strike the city ("sitting around the pool in our bathing suits getting a tan, watching a war" in Bourdain's words), but he cooks French comfort food for the crew in their hotel kitchen. He creates a semblance of normality for them while the local airport — their sole passage out of a war zone — burns.
Bourdain is quick to point out, "Paula Deen pulls down $30 million a year. So who's the idiot? Me." Maybe he's not making Deen-level dough, but his well-timed comments circulate papers and blogs, generating a lot of publicity and enhancing the impression among his audience that Bourdain does and says whatever he wants — the primary selling point of his appeal. One thirtysomething fan I spoke to summed it up as, "He's really real … I don't get the impression he was mass-tested and marketed."
Perhaps, but some would claim Bourdain has a knack for saying and doing exactly the right kinds of "real" things. As Professor Ray pointed out, Bourdain's ability to tap into the Zeitgeist is impressive. The nature of his coolness is very chicken-and-egg: Are we into offal and whiskey because he is? Did he predate the ethos of embracing all types of food culture omnivorously, or is his show a sort of omniscient byproduct of what was already happening? He is damn consistent with his ability to identify the next big thing — like signing Olive Garden critic Marilyn Hagerty to a book deal this week.
In the end, whether the comments and books and shows are truly raw — or calculated to come off as such — is largely irrelevant. Professor Ray, an admitted fan of Bourdain's, doesn't see anyone replacing him anytime soon. "He lets me see eating and drinking and smoking to excess that I have had to give up in my life," Ray says. "He's somebody who can take all the excesses and turns it back at us." Ray gives Bourdain about twenty more years at the center of food culture, if his health holds.
Bourdain is more measured: "If history teaches us anything, it's that your audience could be done with you tomorrow." He'd struck a similar note earlier in our conversation, telling me over e-mail, "My impression was always that I am deeply offensive or annoying to a far greater number than those who like me … the thing I hear most is: 'You're an asshole. But at least you're not the other assholes.'"