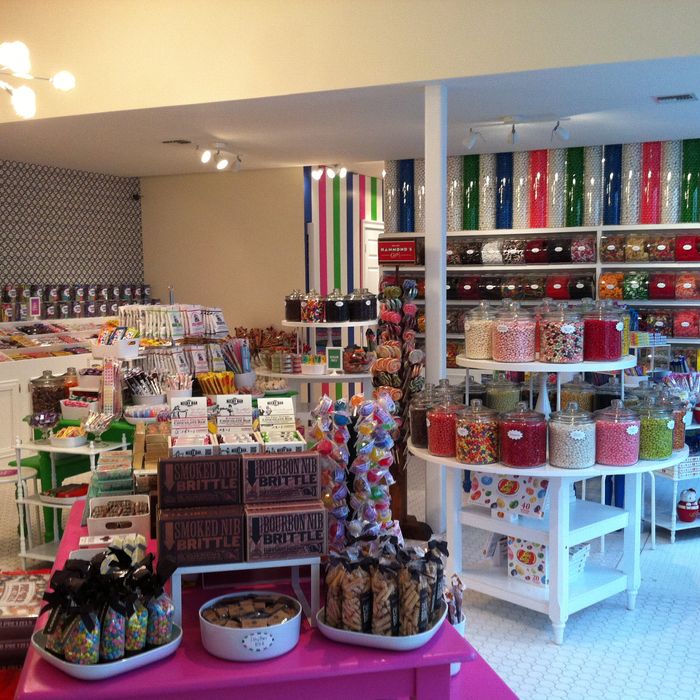 Sugar Shop: Cobble Hill's new candyland.
Photo: Courtesy Sugar Shop
While patisseries specializing in rainbow-colored macarons, not to mention chocolatiers, seem to be popping up on every block, it's been a while since a good old-fashioned candy store opened in New York. The new Sugar Shop in Cobble Hill embodies the sentiment of a penny-candy store with a contemporary Wonkaland design, complete with gumball-filled plastic columns and a side room for candy-themed parties. As a nod to sweets shops of yore, the back wall is lined with a "nostalgic candy bar" full of old-school treats like Charleston Chews, saltwater taffy, Mary Janes, and Mallo Cups.
In all, the shop carries more than 150 varieties of candy, arranged in sections like a "chocolate wall," covered with containers of treats such as peanut-pretzel poppers and toffee pistachios covered in chocolate. There's also a lollypop tree, a table for Jelly Bellys, and another dedicated to sweets from Brooklyn, including Mast Brothers Chocolate and Fine & Raw bars. Owner Sara Houchins grew up making pull candy with her grandmother and frequenting a sweets shop where her grandfather kept a store account, and she left a job in fashion to open Sugar Shop. "I just didn't love clothing the way I love candy," she tells us. Hours are 11 a.m. to 7 p.m. daily.
Sugar Shop, 254 Baltic St, nr. Court St., Cobble Hill; 718-576-3591