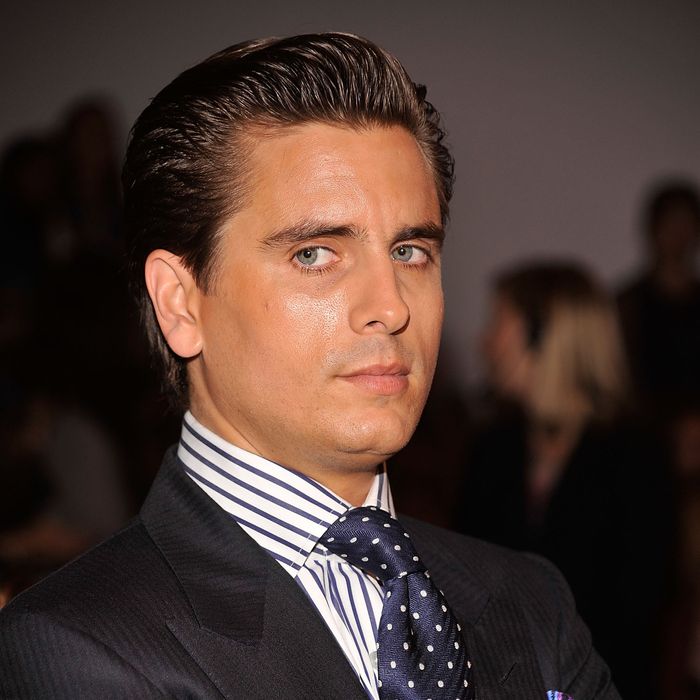 The next Jeffrey Chodorow?
Photo: Gary Gershoff/WireImage
Remember when Scott Disick (the Patrick Bateman look-alike from the Kardashian shows) was hanging around with the Fatty Crew? Well, turns out he's their partner in a new restaurant project that will be opening soon. Seriously!
No word on the exact name, but our sources tell us the place will be in the meatpacking district, on Gansevoort Street. The restaurant itself will be Japanese, with one source telling us the group is going for a Nobu vibe. And, taking another cue from Nobu, Disick & Co. plan on exporting the concept to other cities — Vegas and L.A. on top of the list, no doubt.
It's a really strange move for the Fatty Crew, who will serve as consultants and managers. Yes, it will probably be lucrative, but if things go south — a good story line for a season of a reality show! — it will be difficult to extract themselves from the Kardashian brand. (Just ask Kris Humphries.) Perhaps that's why we're also hearing that Zak Pelaccio is distancing himself from this particular project.
So, when is this place opening? Details on the exact date are all very hush-hush, but we're hearing an official announcement is imminent. One thing's for sure: You can bet the Kardashians, and their kamera krews, will be there opening night.
Update: The Fatty Crew writes in with an official take: The company is launching a full-scale management group, and Jesse Camac will be handling the Disick project, "launching this spring." Also in the works: A new line of sauces that will be sold at Williams Sonoma.
Here's the full statement:
Owners and operators of the popular "Fatty" brand of restaurants, in recent years known as the "Fatty Crew", have built a recognizable name in the industry with three locations of Fatty Crab (two in Manhattan and one in St. John, U.S.V.I.) and two Fatty 'Cue outposts (one in Brooklyn and one in Manhattan) under their belts. While the "Fatty" restaurants will always be the roots and essence from which the company was founded, new opportunities abound that are helping to shape a new chapter for the Crew.



With a keen understanding that evolution and adaptation are integral to any company's success, Fatty Crew's CEO, Rick Camac, is taking the group on some new adventures. First, he has established the group as a bona fide management company (Fatty Crew), whose services can now be made available to others in the hospitality industry who may, for lack of funding or experience, be in need of assistance in operations, finance, management and/or public relations. In order to be prepared for these offerings, the Crew is investing heavily in technology and infrastructure. Camac foresees the remainder of 2012 to be a very challenging and exciting year, with many changes to come.



As experts in their respective fields, members of the Fatty Crew can now provide a variety of services to other businesses, as well as explore personal interests and passion projects. Camac envisions this new management company will allow his top executives the opportunity to pursue individual dreams with the support of a parent company, which, in some cases, is quite literal. Camac's son, Jesse, currently the group's VP of Operations, will soon be embarking on a new project launching this spring in the Meatpacking District. The venture will allow Jesse to lend his expertise and assistance to the collaborative group, who are more involved in the nightlife sector. The cuisine will be Japanese-inspired with a more approachable menu but will still maintain the Fatty Crew's culinary integrity and excellence.



As Jesse puts it, "I have been looking for a project that would allow me to merge high quality food, tight operations and a consistent nightlife experience. I see this as a natural progression for me in the world of hospitality. This project, while clearly a restaurant, will take me a step closer to that goal. I am excited by the prospects".



Camac states "while assessing the Group's strengths and weaknesses, it has become clear that our chief strengths consist of concept creation, attracting strong players to our group and understanding the NYC market. We will continue to capitalize on those strengths".



As more exciting prospects come to the table, Camac endeavors to take the Crew outside of New York, with eyes set on national, and perhaps one day, international expansion. All the while, maintaining headquarters in NYC as the Crew's incubator, in which they will continue to experiment and tinker with new ideas and concepts. In addition, The Crew is also pursuing the sweet and savory wholesale and retail markets. To that end, a new line of sauces will be available online and in stores at Williams Sonoma in time for Father's Day.
Earlier: Scott Disick Slithering Into the Restaurant Industry?