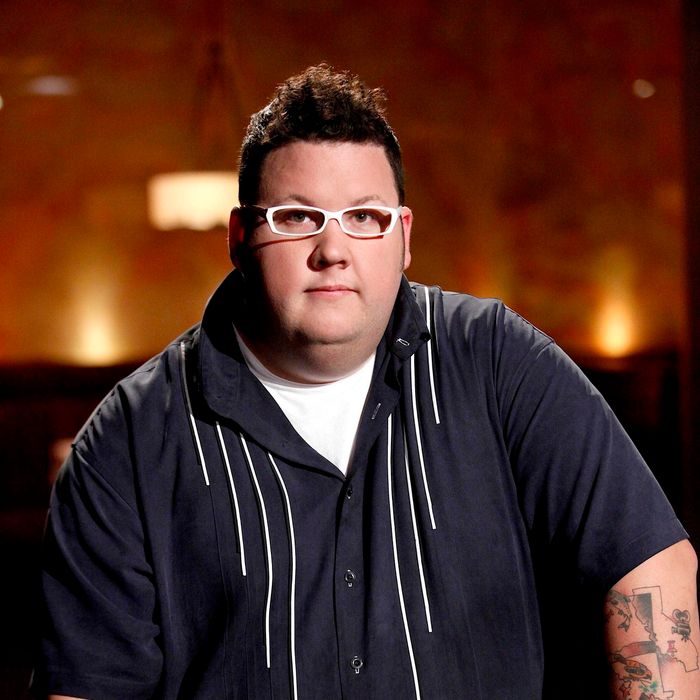 The newest member of the Roots crew?
Photo: Greg Gayne/FOX
After getting his afro handed to him in a fried-chicken showdown with David Chang last week on Late Night With Jimmy Fallon, it seems as if Questlove has decided to bring in culinary heavyweight Graham Elliot in order to fortify his (somewhat ambiguous) Quest Loves Food endeavor. Details are fuzzy, but a rep for Elliot tells Grub that he and Questo have been getting along famously since first meeting at Lollapalooza last year, where Elliot served as the festival's culinary director. The two are now teaming up for what's being billed as "Quest Loves Food Powered by Graham Elliot," which we're told should not be confused with the plain old Quest Loves Food.
Though a specific event hasn't been named, Quest and Elliot are supposed to debut Q.L.F.P.B.G.E. sometime next month. Elliot, who again will serve as culinary director for this year's Lollapalooza, is signed on to develop a menu of signature items that will be served alongside Quest's now-infamous deep-fried Love's Drumsticks at undetermined music festivals, industry parties, and other events. We'll keep you posted as further details emerge.
Earlier: Watch the David Chang vs. Questlove Fried-Chicken Showdown on Jimmy Fallon