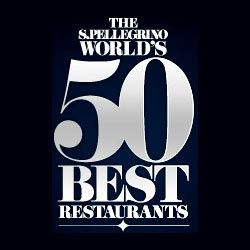 Another year, another set of restaurants jockeying for the top spot.
What's interesting about The World's 50 Best Restaurants list, put out each year by Restaurant Magazine in the U.K., is how quickly it's become shorthand for referring to great restaurants. Witness Noma, which almost everyone calls the best restaurant in the world, as if it were an objective fact, not the result of this particular list's rankings. Well, good news for Noma: Today it upheld that ranking for the third year in a row, and is still the best restaurant in the world. (Which means it'll probably still keep cranking out stagiaires.)
Other things worth noting: Thomas Keller picked up a lifetime achievement. List-makers knocked the Fat Duck down to thirteen after it held places in the top five since 2004, though Heston Blumenthal's London spot, Dinner by Heston Blumenthal, debuted at number nine. David Kinch's Manresa breaks into the Top 50 this year, arriving at the 48 spot. Ssäm Bar bumps up from 40 to 37 (still down from the 26 spot it held in 2010). Daniel Boulud's flagship, Daniel, plummeted from 11 last year down to 25 this year. Does this mean any of these restaurants are really any better or worse than they were last year? Not really, since all these chefs and restaurants are absolutely fantastic, and if you go to any one of these places you'll have a very, very good meal, possibly (probably?) one of the best of your life.

1. Noma, Denmark
2. El Cellar de Can Roca, Spain
3. Mugaritz, Spain
4. D.O.M., Brazil
5. Osteria Francescana, Italy
6. Per Se, New York
7. Alinea, Illinois
8. Arzak, Spain
9. Dinner by Heston Blumenthal, U.K.
10. Eleven Madison Park, New York
11. Steirereck, Austria
12. L'Atelier de Joël Robuchon, France
13. The Fat Duck, U.K.
14. The Ledbury, U.K.
15. Le Chateaubriand, France
16. L'Arpege, France
17. Pierre Gagnaire, France
18. L'Astrance, France
19. Le Bernardin, New York
20. Frantzén/Lindeberg, Sweden
21. Oud Sluis, Netherlands
22. Aqua, Germany
23. Vendome, Germany
24. Mirazur, France
25. Daniel, New York
26. Iggy's, Singapore
27. Les Creations de Narisawa, Japan
28. Nihonryori Ryugin, Japan
29. Quay, Australia
30. Schloss Schauenstein, Switzerland
31. Asador Extebarri, Spain
32. Le Calandre, Italy
33. De Librije, Netherlands
34. Fäviken Magasinet, Sweden
35. Astrid y Gaston, Peru
36. Pujol, Mexico
37. Momofuku Ssäm Bar, New York
38. Biko, Mexico
39. Waku Ghin, Singapore
40. Quique Dacosta, Spain
41. Mathias Dahlgren, Sweden
42. Hof Van Cleve, Belgium
43. The French Laundry, California
44. Amber, China
45. Vila Joya, Portugal
46. Il Canto, Italo
47. Bras, France
48. Manresa, California
49. Geranium, Denmark
50. Nahm, Thailand