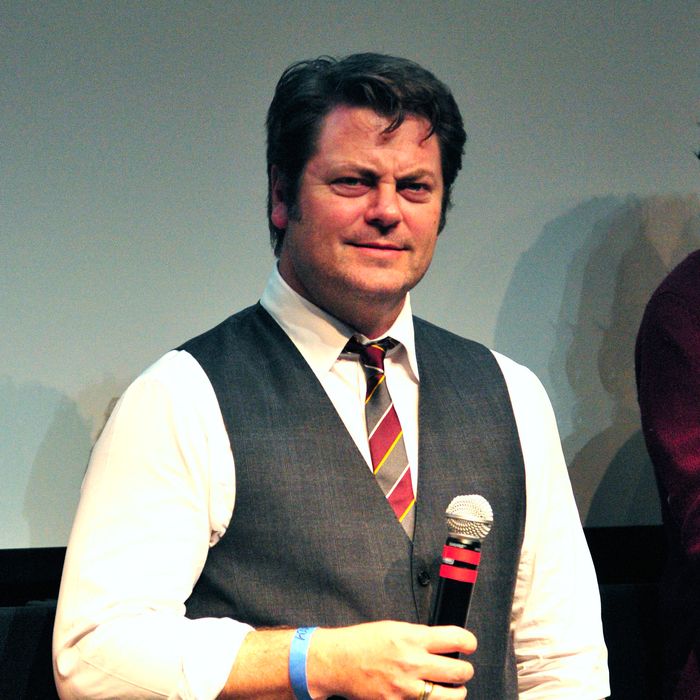 He's pro-coaster.
Photo: Jordan Naylor/WireImage/Getty Images
Best known for playing America's foremost breakfast enthusiast Ron Swanson on Parks and Recreation, and starring in films such as 21 Jump Street and Casa de Mi Padre, Nick Offerman is also, perhaps unsurprisingly, an accomplished woodworker with his own outfit, Offerman Wood Shop, in Los Angeles. Last night, Offerman was in town to host the premiere of Handmade: A Celebration of American Craftsmanship, a roadshow documentary presented by Balvenie Scotch. We caught up with him to chat about whisky, breakfast foods, and wooden dildos (among other things).
How did you get involved with this project? Did they recruit you because they knew of your woodwork?
Apparently. I haven't actually asked how I got involved in this. We were contacted. I can only assume it's because I'm experiencing some lucky notoriety because of my TV show, and I happen to be someone who is a practicing craftsperson with my woodworking shop, and so they out of the blue invited me to come be part of this event. I said, "You're celebrating people who make things with their hands," which is sort of my religion almost. If I have a soap-box issue, that's it. I would like Americans to make things with their hands. Thomas Jefferson and I feel that makes for a much stronger nation. And so to be invited to a celebration of crafters, of an incredible single-malt whisky, is like some sort of crazy masturbatory dream that I would have cooked up myself. But no, it's a reality.
What about your shop? I saw that it doubles as Ron Swanson's shop on Parks and Rec.
It did for two days. I hope that the show comes back to Ron's shop … I found a warehouse, I got this shop. It really became such a fruitful part of my life. There's so much we hear about in Los Angeles and Hollywood about how terrible the rejection is and how much gross superficiality the business thrives upon, and I really immediately found my woodworking shop an absolute refuge from that side of the business.
How much time are you able to spend making things?
Actually the best time is when we're shooting the show, I usually have at least one or two days off a week. And so those are sort of guaranteed, because the schedule only comes out each week in advance, I don't have time to book other things, and so those are my shop days. I was there all day yesterday. We're in the middle of a big transition for the first time. We're taking a tree from the neighborhood and milling it ourselves.
And "we" is you and your wife [Megan Mullally]?
No, me and a couple of helpers. My brother works there with me, and a couple of other aspiring young woodworkers. You have to have elves in Santa's workshop.
Have you given anything to cast mates? From Parks and Rec or from movies? Are these things you give as gifts?
I like to give things as gifts for sure, but it's hard for me to keep up with. Like, Mike Schur, who created Parks and Rec, he's getting an incredible chest of drawers at some point. But we do have some gift items at the shop. We make these mustache combs as well as something called the tackle box. And there have been some given as gifts but I don't sort of utilize it that much because I feel like, it's not actually made by me. I'm making a table for Rashida [Jones] as a commission right now, but I've had to really sort of back off just because I fortunately have this Champagne problem that I'm having my dream life as an actor.
Have any cast mates asked you to make you something as a joke for the show? And what's the strangest thing you've been asked to make?
Sure, I get asked to do all kinds of things. One member of our crew on the show is trying to get me to make him a large wooden dildo, complete with balls.
Is there a reason for that? Is it for actual use or just for show?
I don't think it's for his own personal use. I think there's some sort of humorous intent behind it but I'm not sure what it is. The strangest thing that's been made in my shop is one of my assistants, for a client, made a sort of, what I was given to understand, it was some sort of new age medicinal stool for ladies, and it's a stool that — it's a three-legged stool that holds a kettle beneath it and the emanations from the potion in the kettle rise up to affect that part of a lady's anatomy that's in contact with the stool.
That was commissioned and made?
Yes, that was.
So it has the Offerman factory stamp on it?
It does. It was an approved Offerman design, and from what I understand it's working wonders.
And once you make a table or any wood-based item, how much care do you take of them after? Are you protective of them? Do you insist on coasters?
Sure, you always give a little education to the client who receives your furniture. We like to use hand-rubbed oil finishes which are not as durable as like a polyurethane, but polyurethane sort of steals away some of the character of the wood. So I give people a good talking to. At the same time you kind of want your pieces to get a little dinged up and develop a patina, so there's a fine line between my own stuff, I try to keep beverage rings off my furniture but if it gets a dent or ding in it, I come to recognize that as a wart or just part of my friend that is still a beautiful friend.
Are there any other character traits that you overlap between you and Ron Swanson? Like breakfast food or a secret jazz project?
I am a saxophone player. But I'm not nearly as accomplished as Duke Silver. I love meat. Meat is a big deal in my life. I do love breakfast food, but I don't think that's extraordinary. I'm a normal American. We love eggs and meat and potatoes and gravy. I love making people uncomfortable by making love to my wife in diners. And fishing. I come from a family of fisherman. Fishing is very important to us. We don't hunt. We're not gun folk.