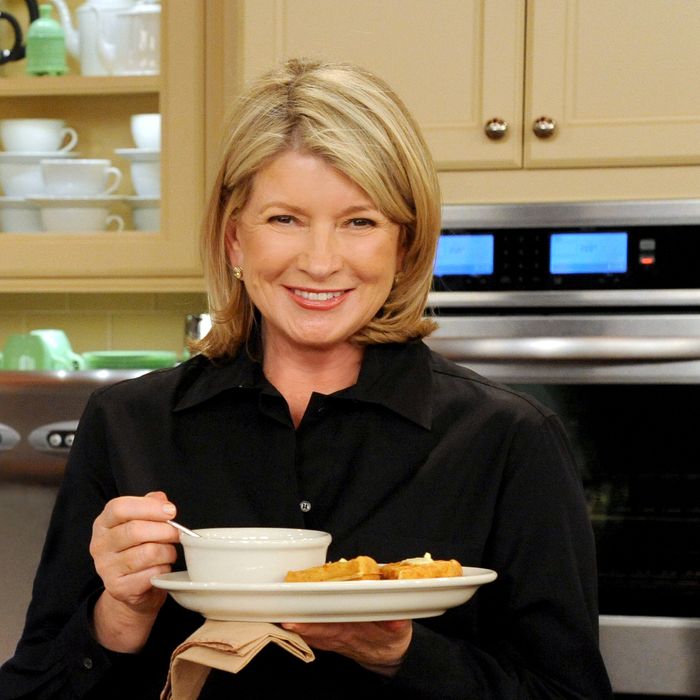 Sundays at Martha's entail green juice, cappucinos and a horseback ride.
Photo: Rob Tannenbaum/The Martha Stewart Show
We already knew that Martha Stewart is as much a brand as she is a person — and that Martha (the brand) doesn't so much sell her vision of rustic, perfectionist homemaking as she simply embodies it. But we also knew that, every now and then, Martha (the person) can be really funny and quirky, especially when it comes to food, and especially if you catch her with her guard down. So when she agreed to tackle this week's New York Diet for us, we didn't know which Martha we'd actually get: Eccentric or robotic? The answer is both. She sent us a diet that's momentarily revealing (a day trip to Tennessee is a chance to try the best local barbecue) yet simultaneously scrubbed clean of much of its personality, with a nifty plug for her new book, Martha's American Food nicely folded in. In many ways, it sums her up perfectly. So, with that in mind, read on for tales of a ramp-and-favas springtime feast, the Time 100's "inedible" fish, and that barbecue pig-out with the people.
Friday, April 20
I had a doctor's appointment that forbade me from eating on this day. It is important to be proactive about your health. I only had a cup of hot water with lemon.
Saturday, April 21
Today I traveled to Collierville, Tennessee, for an event at the Home Depot. It was an early start to the day, but we brought on the plane with us a sampling of New York's beloved Balthazar breakfast pastries, which I enjoyed with a little airplane coffee. I started the day with a glass of my secret green juice.
When traveling, I always make an effort to go to the best local spots. I asked some of the sales associates where I could get the best Memphis–style barbecue, and they all pointed me to the famous Corky's BBQ, a Memphis staple. We had the most delicious Tennessee BBQ, the meat just fell off the ribs; warm hushpuppies; creamy, golden mac 'n' cheese; fresh coleslaw to complement the spice of the ribs, and to wash it all down, a large glass of unsweetened iced tea with a slice of lemon.
Dinner was at the Stamford Plaza at a Benefit for the Mederi Foundation — honoring Donnie Yance. I have been consulting with Donnie for years about nutrition and well-being … integrative medicine. The food was sadly inedible, and I lived on my lunch.
Sunday, April 22
Tried to take it easy because Saturday was a really eventful day. Green juice, cappuccino, followed by a horseback ride. Fresh asparagus for lunch from my garden. Then dinner with friends. Great oysters and pasta.
Monday, April 23
Every morning I drink a green juice made from fresh spinach, parsley, pear, ginger, orange, and cucumber from my farm.
The Martha Stewart Show taping: This morning, special guest April Bloomfield helped demo smoky chicken adobo with jasmine rice with a spicy ginger cake with whipped cream for the show. One of the benefits of shooting TV is that there is always delicious food cooking on set.
For lunch, I had asparagus and tomato salad. Later, I had a snack of sliced cucumber, which is always refreshing once the weather is warmer.
Dinner was with my president, Lisa Gersh, at Sushi Yasuda. I had the chirashi sushi box and pineapple for dessert.
Tuesday, April 24
I always start the day with my green juice.
For the show, I cooked and tasted recipes from each of the regions represented in my new book. I think my favorite of the recipes we made was the farmhouse chowder, but Lucinda [Scala Quinn] seemed to be a fan of all, as she thinks this is the best book yet.
For lunch, I had asparagus and lobster and had a few bites of the miniature blackberry pies that we made on the show this morning.
I joined my TV cast and crew for a wrap party at one of my favorite restaurants, En Japanese Brasserie. Amongst the delicious hors d'oeuvres they served were Peale Passage Oysters from Washington State, Zenmai Piri-kara, which are royal fiddlehead ferns with a seven-spice pepper, their signature freshly made tofu, served warm with wari-joyu, and their irresistible crispy fried chicken. I also enjoyed sake with my meal.
Attended the Time 100 Dinner: The dinner, not so good, was field greens with morels; inedible fish of some sort, haricots verts, dauphinoise potatoes. The meal was finished off with mini pastries for dessert.
Wednesday, April 25
We had to be on set of the Today show around 8:15 a.m., so we stopped at Via Quadronno along the way for a cappuccino and fresh-squeezed orange juice.
The Today show crew is always so fun to cook with. Savannah, Al, and Natalie joined me in making a few desserts from the May issue of Everyday Food. Natalie dug right into the waffle trifle after the segment along with some of the crew. I did not partake.
We enjoyed a very fitting and springtime lunch with one of our advertisers in a test kitchen at MSLO. The menu included: cold asparagus and ramp soup, sautéed lemony chicken paillard; arugula, fava, toasted almonds, Parmesan, and mint salad; crostini with ricotta and roasted cherry tomatoes; and finished off with a delicious rhubarb tart with buttermilk ice cream. I drank citrus-ade and sparkling water throughout. I ate everything.
I stopped at Purdy's Farmer and the Fish for dinner, a new eatery and really fun. Only had time for a Russian River chardonnay and a few raw clams and bowl of chowder. Then I was off to a planning and zoning meeting. It was a great week, although I lost a few pounds.