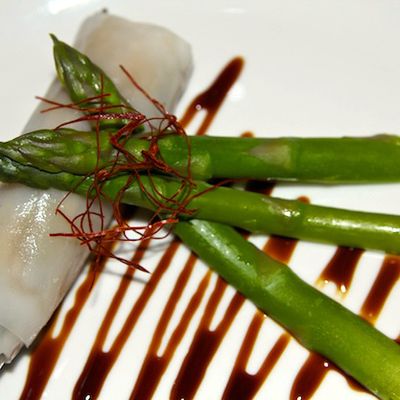 Asparagus with mushroom cannelloni from a past dinner.
Photo: Liz Rueven
If last week's matzo binge left you craving something a bit more refined, the latest Kosher pop-up from Manna Catering has a table waiting for you. Early last fall, Manna co-founder Dan Lenchner noticed the proliferation of pop-up restaurants and thought, why not go kosher? "A restaurant lets you [test things out], but it's a huge venture," he told us. "A pop-up allows you to do it on a small scale." Now Manna's fourth kosher dinner, happening April 26 at Long Island City venue the Foundry, will be its biggest yet, accommodating up to 120 guests.
Manna's past dinners have ranged from eclectic (mushroom cannelloni, Balinese short ribs), to fusion (Vietnamese-Mexican, to be exact), to Israeli-food menus, and this month's dinner will feature a "spring Italian" theme.
Lenchner's son Yair, a line cook at the Mark Restaurant by Jean-Georges, recently returned from a two-week research trip to Italy where a hazelnut-encrusted shrimp dish put him in hot pursuit of the Piedmont nuts. He'll prepare his own spin on it using cod in a balsamic reduction, along with white beans, asparagus, and porcini. Other menu highlights include a course of poached duck egg with frico and sage cream, and a mascarpone frappe with honey, chocolate, and espresso essence. The dinners are a family affair, with Lenchner's wife, Joni Greenspan, pinch-hitting for everything from planning to hostessing to cooking and baking. And yes, it's all certified kosher.
Going with a dairy menu this time may be a bit divisive for kosher diners, since they often prefer to have a meat option. But for Lenchner, it's always just been about making a high-quality meal. "We've got these rules, but yeah, so what? Get on with it, and cook good food."
Details:
When: April 26, seatings from 6:30 to 9 p.m.
Where: The Foundry, Long Island City
Cost: $100 per person, including wine
Reservations: e-mail manna@mannacatering or call 212-966-3449