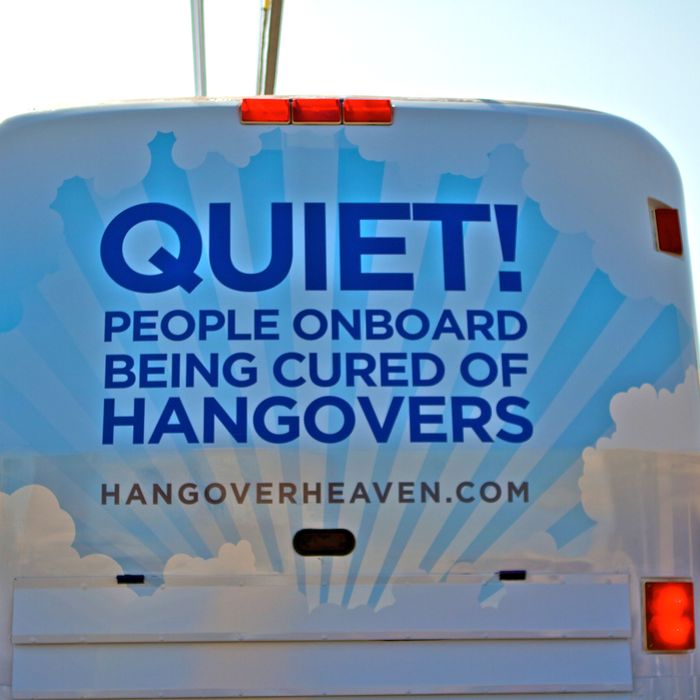 Going mobile.
Photo: Courtesy of Hangover Heaven
How did this not happen sooner? Today we get word that enterprising anesthesiologist Jason Burke launched an operation called Hangover Heaven. Of course, this is in Las Vegas, on a bus, outfitted with plush seats and flat-screen TVs. He calls his treatment room a "medical practice on wheels, analogous to a physician with an RV offering X-rays, MRIs or mammograms, a mobile dentist, or a blood bank bus set up in an office-building parking lot." Well, it's almost like that, except his patients' wounds are self-inflicted.
The good doctor relieves revelers with "stomach-churning wooziness, headaches and body pains" by administering a full complement of hangover soothers designed to get people back to the slot machines and bars ASAP.
A "redemption package" will run you $90 and consists of "intravenous hydration." For $150 you can upgrade to the "salvation package," which consists of "intravenous hydration, anti-nausea and anti-inflammatory medications." And high rollers can get in-room treatment for $500. That might sound like a lot to spend on something that a nap normally cures, but know that "the in-room treatment consists of an actual doctor coming to your room."
And of course, the doctor's assistant will be wearing a "suggestive nurse's outfit," because, well … of course.
Hangover Heaven [Official Site]