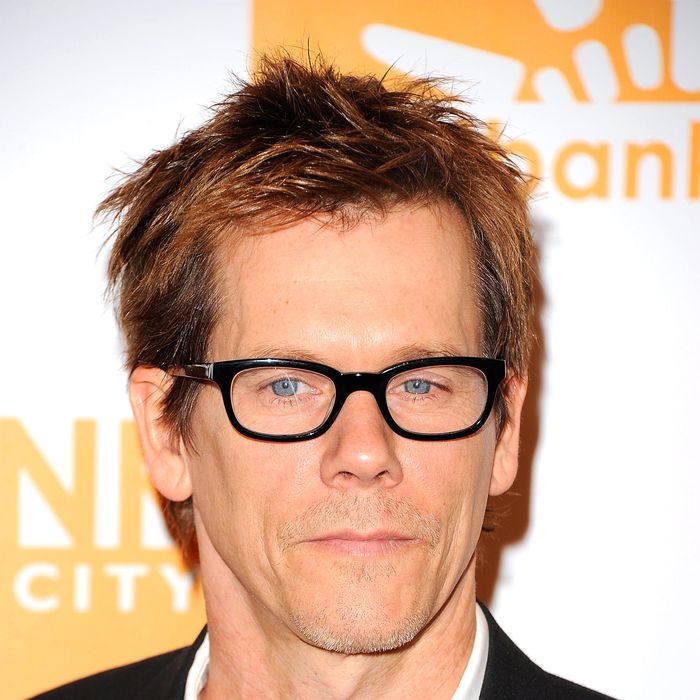 More into kale than actual bacon.
Photo: Andrew H. Walker/Getty Images
It goes without saying that when you're in the same room with Kevin Bacon and Jon Hamm, your mind might drift to pork. It's doubly true when the room in question is Cipriani Wall Street, where Mario Batali and Stanley Tucci hosted Food Bank for New York City's Can-Do Awards, which is where we bumped into the two last night.
Hamm himself was hardly, um, ham'n it up, only telling us that, yes, he's perfectly capable of fixing a sink in real life — but his partner Jennifer Westfeldt told us she loves to cook, as long as there are other people around. "I don't cook for myself alone, which is something I am working on," the Friends with Kids director told us, adding, "I love to cook when it is two people or three people or four people." And what does she make? "I make good pastas and salads and vegetables. I'm a vegetarian so it's not that interesting I guess for most people."
Okay, so even though the couple missed a great callback opportunity for Jon Hamm's John Ham, maybe Kevin Bacon would spill the beans on his love of pork. Alas, no. He admits he cooks a lot, but he's way more into ruffage than swine. He told us the signature dish he and his wife Kyra Sedgwick make is kale salad. Are they vegetarian? "No, but I love kale. Both of us love kale."
Related: Have the Bankers Forgiven Batali?