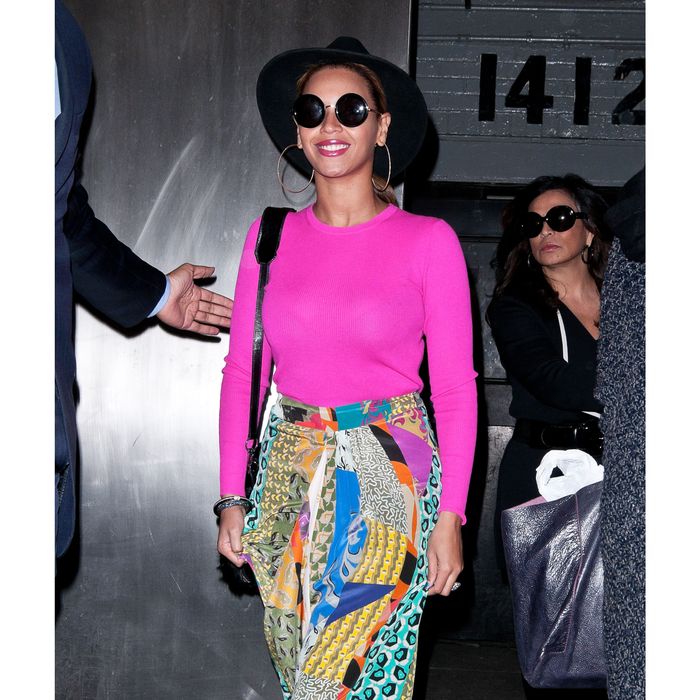 Bey got her dance on.
Photo: Thelonius / Splash News
Hey, Kanye West and Kim Kardashian are dating, just in case you forgot. Anyway, the two found themselves out — after nearly a month (!) together — with Kim's family this past week. We don't need a relationship expert to tell us that things are going well. Some other celebs made their way into the New York nightlife this week, including Beyoncé, dancing the night away. All this, and more of our weekly roundup of celebrity dining, straight ahead.
Abe & Arthur's: Probably the cutest couple on earth right now, Jason Segel and Michelle Williams, had a quiet dinner following the premiere of Williams's Take This Waltz, where they couldn't keep their hands off each other. [People]
Avenue: Emma Watson had a "dance-off" with Mr. Dance-Off himself, Glee's Chris Colfer, after enjoying drinks and appetizers. [People]
Catch: Carmelo Anthony was presented with an Audemars Piguet watch over dinner with his teammates. [Page Six/NYP]
Ryu: Kanye West and Kim Kardashian (Kimye!) celebrated the opening of the new Kardashian–Fatty Crew restaurant and enjoyed some family time with Kourtney and her husband, Scott Disick. [People]
W.i.P.: The most beautiful woman in the world (Beyoncé) enjoyed a night out full of dancing and free of babies in the greatest city in the world (New York). [People]