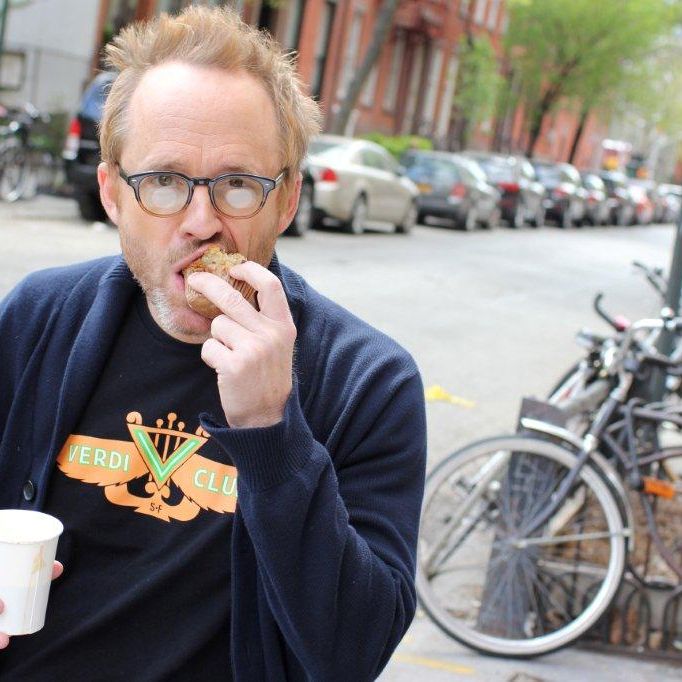 Hickey outside Bonsignour with his "best part of waking up" muffin.
When Grub Street asked John Benjamin Hickey, the Tony Award–winning actor and star of Showtime's The Big C, to do a New York Diet, his response was, "Honey, I'm a hungry boy from Texas who loves to eat too much and get drunkedy-drunk." In other words, hell yeah. Read all about Hickey's eating week — as The Big C kicked off its third season, and he got tipsy with Andy Cohen, made "Mexican food for dummies," and over-ate at Orso — in this week's New York Diet.
Friday, April 6
Made a homemade red-eye with free-trade Rwandan coffee from Think, with a shot of espresso, and a blueberry muffin from Bonsignor. This muffin is very special to me as the top is crunchy and can be dipped in coffee. It was the best part of waking up.
Didn't make it to gym, so I wanted to eat well, which means lunch was half a turkey sandwich and zucchini soup at Marquet. I felt good about how healthy the meal was, so I ate three pieces of toasted baguette with butter for dessert.
Went to the theater with the BF and pals Marc Shaiman and Scott Wittman, and ate dinner after at Orso. Had a lot of that crispy-bread stuff they bring, with rosemary and garlic on it, then a salad with celery, chicory, cheese, etc. … one of those all-white salads. Also, risotto with shrimp and lemon zest, and two glasses of Italian chardonnay. Oh, and lots more bread. Pineapple cake was for dessert. One big, fat, unintentional carb-load day, which ended around midnight.
Saturday, April 7
Starting with a pear-coconut-raisin muffin from Bonsignor — almost as good as the blueberry muffin. Again, the crunch of the muffin top is key. Also, a large oatmeal with bananas and brown sugar. This lead me to a really hard workout — the first since spending two weeks in Puerto Rico filming the last episodes of The Big C, where I drank A LOT and worked out NONE. So, I felt kinda pukey after the gym.
Ate a very quick chicken-avocado sandwich at the café in Equinox, then went to see the play 4000 MILES. I know this is a food/diet thing, and I am only supposed to talk about food/diet, but please go see this play. It's the greatest, and Mary Louise Wilson is giving a performance for the history books. After the play, I killed a dosa at Hampton Chutney Company in Soho. The No. 7, with chicken, and a cilantro AND mango chutney. The best.
Later, I ate a lot of chicken-satay skewers at SPiN, the ping-pong club, where we had the wrap party for The Big C (which is on Showtime on Sunday nights — last plug). Then, there was dinner with John Slattery and Talia Balsamat at Good — which is the best neighborhood restaurant, very friendly, warm service, really, really good food. I had turkey scallopine and a faro salad. Divine.
Sunday, April 8
I won't bore you with the muffin morning.
Drove up to Connecticut for the day. I have a house in the northwest corner. We went to an Easter brunch for lunch, where they served … curry.
I am from Texas, and I crave Tex-Mex in a crazy way. There is good Mexican food in the city, like Mole, but there isn't good Tex-Mex. Anyone from Texas knows what I mean. So I made Mexican food for idiots at home. More important than the meal is what comes before. I make fresh guacamole with just avocado, cilantro, jalapeño, lemon and lime juice, and salt. That's it. Skip the onion, its too much. Keep it nice and chunky, as nothing is more depressing than creamy guac. Oh, and there is no point in eating guac unless you have a margarita to go with it. Or margaritassss.
Monday, April 9
Breakfast was from a sandwich place in my town in Connecticut called On the Run (Route 41 and 44 Lakeville, Connecticut), which makes their own egg McMuffin. Very buttery and bacony and great. That was breakfast and lunch.
I had to do a thing for The Big C (Another plug! I lied), so had an early dinner at dell'anima. I ate there every night when it first opened, then it got super hot and I couldn't get a table, so I got pissed and boycotted it for a while, then forgave them. Had an arugula salad, and a tagliatelle with mushroom dinner that was insanely good.
Late night, I did Andy Cohen's show Watch What Happens Live, so I had some frequilas (Fresca, tequila, lime) with Andy, and a lot of cheese.
Tuesday, April 10
Breakfast: Guess?
Lunch was at Eisenberg's, which needs no introduction. Talk about last of a dying breed! Had a tuna sandwich on wheat toast, pickles, side of slaw, Dr. Brown's black-cherry soda on ice with a slice of lemon. The best.
Dinner was at Morandi with some friends. It was loud and overcrowded, and filled with people who don't live in the neighborhood, like all McNally places. But also, like all McNally places, delicious food, great service. I had the chicken. Amazing. And the — what's the word — verisimilitude at his places is amazing.
Wednesday, April 11
You are almost finished reading about my muffin thing.
Went to La Bonbonniere for the best bacon-and-egg joint in the village. This place is the greatest, and Gus and all the people who work there are the nicest. It's spanking clean, but it is an old joint with many years of cooking under its hat, so when you eat inside, you do kinda smell like the place the rest of the day. So basically you stay hungry for bacon all day. Perfect.
For dinnerm I met my friend Cynthia O'Neal, who founded and runs Friends in Deed, one of the great service organizations in NYC, providing emotional, spiritual, physical, etc. support to people with life-threatening illnesses and their loved ones. What a great New Yorker she is.
To end this unbelievably long, not to mention expensive, week of eating out — it's not always like this — we save one of the great, new New York meals, for last: Il Buco Alimentari. All I can say is: Order. The. Short. Ribs. If you don't believe me, read the Times review, or I'll bet Mr. Platt had nice things to say as well. Did I mention Mr. Platt's brother is Oliver, who is the star of a show called The Big C? And did I mention what time it was on …