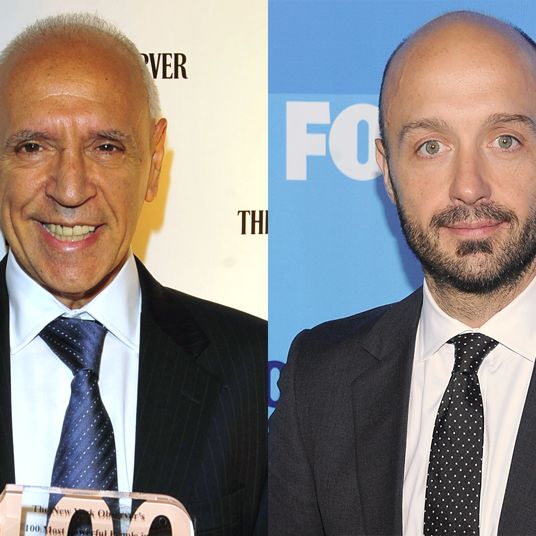 Let's take it outside, boys.
Photo: Patrick McMullan/Getty Images
We haven't read Joe Bastianich's new book, Restaurant Man, but apparently there's quite a bit of venom in it, some of which is pointed right at Post critic Steve Cuozzo. Well, Cuozzo's seen it, and devotes some scathing, incendiary ink of his own in today's paper.
At the heart of this spat is a story Cuozzo apparently wrote in 2006, in which he had some disparaging words about Del Posto. Bastianich hasn't forgotten it and calls Cuozzo "fucking stupid." Further fuel: Bastianich thinks the original headline on that story was "Dumb & Dumber," Cuozzo says it was "Bum & Bummer," and the Post site is so mind-destroyingly awful that we can't find the original story to verify either of their claims. But Cuozzo offers this:
Why does Joe remember it wrongly? Did Mama Lidia beat him with a zabaglione whisk for the mess he made of Del Posto's launch, when it was nearly evicted for violating its lease?
He also brings up that recent $5.25 million settlement Bastianich reached over a tip-skimming lawsuit, and suggests: "Lidia, talk to your boy before he costs you real money."
Both come off as petty, but Bastianich does have a book to sell, and he's no doubt taking a page from the Tony Bourdain–perfected media strategy of promotion-through-name-calling, and hey, look at that, it's working, because now we're all writing about it.
Food fight [NYP]
Earlier: Batali, Bastianich & Co. Settle Tip-Skimming Suit for $5.25 Million