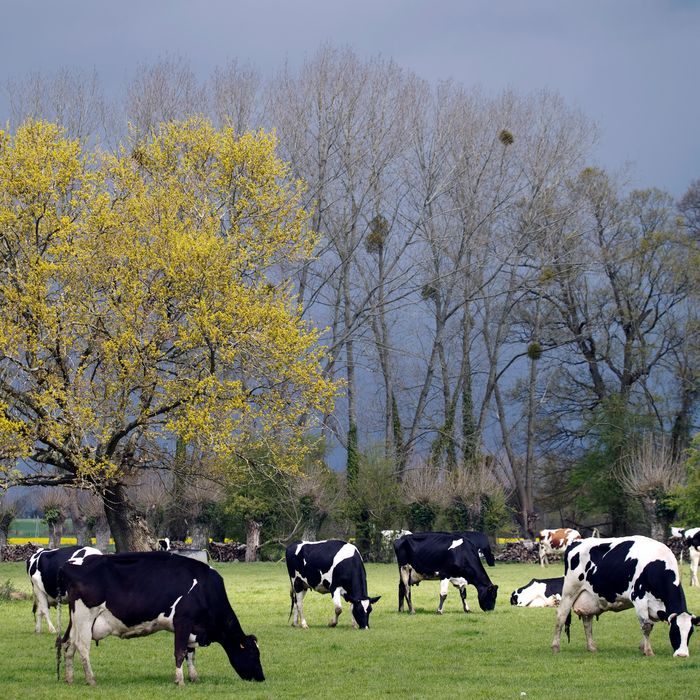 You won't like us when we're angry.
Photo: Joel Saget/AFP/Getty Images
Today, USDA officials confirmed the country's latest instance of mad cow disease. The cow in question was discovered at a rendering facility in central California, and its meat didn't enter into the food chain, and the USDA says we're safe — which is good news for people who buy Steak-umms. So we're probably okay for the time being, since of course this isn't even the first time an infected cow's been found on U.S. soil. Let's take a look back …
December 23, 2003: The country's first-ever case is IDed. The news goes wide on Christmas Eve. The cow had been slaughtered on December 9 in Washington State, but it originated in Canada. Even still, everyone in the U.S. who decided to have prime rib for Christmas dinner wishes they'd gone with turkey instead.
January 25, 2004: The Food and Drug Administration bans cattle blood and "certain cow parts" from livestock dietary supplements and cosmetics in an effort to prevent further infection. Cows everywhere are like, took you long enough.
Mid-2004: Did the Bush administration cover up more cases of mad cow? Let the conspiracy theories begin.
June, 2005: The USDA confirms a cow born in Texas is "the first domestic case of the disease."
October 5, 2005: Per the Times: "The Food and Drug Administration proposed new rules yesterday to prevent the spread of mad cow disease by banning brains and spinal cords from older cows in all animal feed." Animals no doubt hear the news and think, What the hell, you guys? Spinal cords? Ick.
March 14, 2006: Oh man. Another one bites the dust. This time it's a cow in Alabama. USDA officials "say the animal's carcass was buried and was not used for animal or human food."
March 25, 2012: The Wall Street Journal reports "Beef prices have climbed about 30% over the past two years and roughly 10% from February 2011 to February 2012," and that steakhouses are feeling the pinch. Coincidence?
April 24, 2012: Oops! Here's another one, this one in California. "There is really no concern for alarm here with regards to this animal. Both human health and animal health are protected with regards to this issue," says one USDA official.