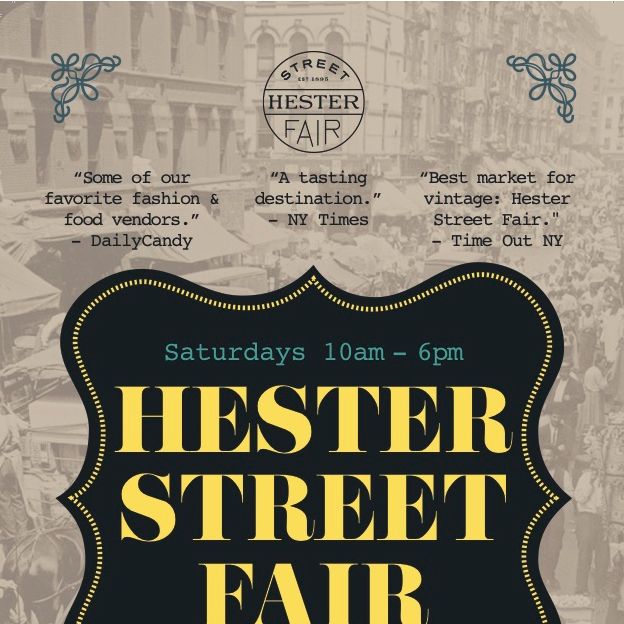 White Belly Pizza, Sons of Essex, and so many more.
The Hester Street Fair is back for its third season on Saturday*, with more rock-star food vendors than ever, from 10 a.m. to 6 p.m. With more than a third of the market dedicated exclusively to food — like classic HSF breakout stars Luke's Lobster and La Sonrisa, and newbies such as Pies 'n Thighs and We Rub You — the fair is pretty much the optimal outdoor eating event (and there are many). Opening day will also get down with a special D.J. set from Bubbles ("New York's feel-good synth-pop band!"). See a full list of participating food vendors here!

Luke's Lobster
The New New
La Newyorkina
First Prize Pies
Fancy Sexy Me (jewelry)
Macaron Parlour
On the Fringe
Melt Bakery
Brooklyn Taco Co.
Dealer's Choice (vintage jewelry)
Wink & Flip (jewelry)
Cam Ci Cam Ca (jewelry)
La Sonrisa
House of Z
Visantine Collective
Filled With Sweets
Estate of Art Vintage Lifestyle
Filthy Farmgirl
Cafe Grumpy
Father's Frames
Ample Hills Creamery
Santé Bakery
PIes 'n' Thighs
Daisy Duke's BBQ and White Belly Pizza
Dolls and Robots (vintage)
FattyCakesNY (cookies)
Prohibition Bakery
Pounou hearts you
A. van Hoek retro eyewear
Maraya Cigars
Snash Jewelry
Leroy's Place (art)
Patacon Pisao (Venezuelan cuisine)
Pie Corps
Kitty Lee Thomas Sweets
Top Shelf Premium Vintage
SaruStar (jewelry)
Arms and Armory (jewelry)
LYRALOVESTAR by Crystal Streets
Wildfell Hall Vintage
Zipper8Lighting
American Collectables
Hazel Village Toys
Honey & Cocoa Skincare
S'amore Gourmet Smores
The Jam Stand
Spatzi's Granola
Ruby Bakes
Rapt
Hour of Nine
Anne De Pasquale Millinery
Rubella Jewelry
Recyclights Candle Co
Mumbot Jane
Molly Rose Post Jewelry
Teaves Tea Company
The Teaologist
Naughty & Nice
H.S. Chocolate Co.
Sour Puss Pickles
Alfajores - Jessy's Pastries
Handsome Howard
Fany Organics
Harlequin&Lionhead;
Hans-My-Hedgehog Illustrations
Heat Sweets
Deadly Dragon Sound (vintage records)
hélène pé
Filigree NYC
Ripe Jewelry
Summer Mizera
Miriam Ariano Jewelry
Ximena Rozo Studio Design
Sons of Essex
Loella Medina Handcrafted Jewelry
Muny Design Inc.
NKN Designs (jewelry)
Granola Lab
The Cameo Vintage
Serena Van Rensselaer
Namo Wear
We Rub You
Holbrooke
Rosiestyle
The Bombay Sandwich Co.
It's A Cuppie
Lizzmonade
BIG NUTS granola
Drive by Press
Brewla Bars
Eve's Pies
Mighty Balls
Naki Nagi Body Scrubs
Irena Sophia
Bruce Cost Fresh Ginger Ale
Dutch Angle
A Tree Grows on Essex
Bubbly Tea
Compass Yoga
Yaya Tea Garden
The Brooklyn Bean Co.
Zen Bakeries
Cotillion Collected Vintage
Mogo Chef
Red Fern Vintage
Zio and Sons
Cocktail Bodega
*This posted has been corrected to show that the season begins Saturday, not Sunday.