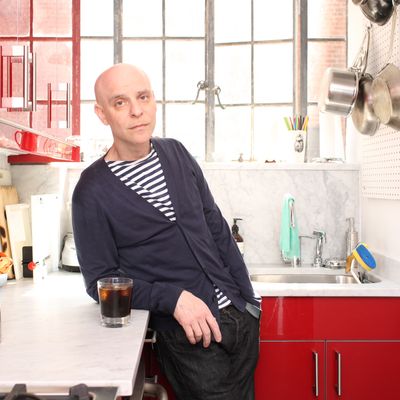 Rakoff, at home in his kitchen.
Photo: Melissa Hom
David Rakoff is known for his pessimistic outlook — he wrote a book called Half Empty, after all — but he sounds almost overjoyed as he talks about his kitchen, a bright Tudor City space he's made comfortable with a much-loved SodaStream ("I've bought one for every member of my family") and long-coveted Julia Child–style pegboard, which he credits with bringing order to an anarchic life. His methodical mother taught him to cook at a young age, and he feels for his stove-averse friends: "Nothing is a greater tool and life lesson than not being scared of cooking for oneself," he says. However, when he's not in the kitchen, he's working on a new novel that's due in August, as well as finishing up a story for the May 10 "This American Life" Live Show, which will be broadcast to movie theaters around the country. In the meantime, check out this week's New York Diet to see what else brings joy to Rakoff's own life.
Friday, April 13
The day begins, as every day of the year does, winter and summer, with black iced coffee. There is always a pot of it in the fridge. I really can't bear hot coffee unless it's essentially turned into a dessert with milk and sugar, and I'll just say it: I get really judgey, and tinged with a mild despair, about folks paying upwards of four dollars a cup for something that is literally easier to make at home than it is to shower. This is the only beverage I will mention. I'm a non-drinker, and the many glasses of club soda downed daily, thanks to my SodaStream machine, hardly seemed worth the cyber-ink. Except to say I might love that machine more than anybody or anything.
I met my friend Jackie for breakfast out at Tarallucci e Vino. It's nice and quiet in the mornings. I had the salmon quiche. I could eat salmon in any form every day of my life (this can also be said about potato chips, avocado, anything fried). The fish was a little overcooked. Did I therefore leave any on my plate? Don't be ridiculous.
I foraged lunch from the fridge, two Persian cucumbers, some kiwi fruit. (Quiche, kiwi fruit, it's nouvelle 1979 at my house; everything but the Jean Pierre Rampal playing.) More laziness than virtue, I'm now at a point in my life where I eat whatever I like, whenever I like.
In the evening, to my friends Kent and Deborah's for supper. She made a particularly good, silky chicken curry with raisins over Israeli couscous. For dessert there was cut pineapple, and I ate a chocolate turtle that I still kind of regret. The thing wasn't much bigger than an ice cube or a chocolate from a Whitman's Sampler, but it packed the heft of a thousand suns. Even five days later, I'm still feeling it.
Saturday, April 14
Iced black coffee, natch. Tinned and tubed fish is part of my colonial heritage, so a whole-grain English muffin with avocado, salmon paste from a tube from the absolutely kick-ass food department at Ikea (the cheapest smoked salmon in the city, and everything feels super-clean and beautifully packaged, which led me to buy a pretty bottle of elderberry syrup which is so off-puttingly floral, it's like drinking someone's grandmother), and smoked cod-liver from a tin.
Lunch was more cucumber and kiwi. It was the first truly hot day. I stayed in and worked, only emerging at dark to meet my friends Stephen and Cate at Sakagura, an izakaya in the basement of an office building on 43rd Street. During a brief time I lived in Tokyo back in 1987, I was frequently taken to, say, the third floor of an unprepossessing building full of dental practices, and there would be a restaurant specializing in eel, for example. Sakagura has a similarly hidden, Japanese Brigadoon feel. The standouts were yaki onigiri, triangular hockey pucks of rice, roasted and topped with sweet miso and a fine shred of shiso leaf. Weirdly good; so much more than the sum of its parts.
Sunday, April 15
My friend Kristin is a relatively new New Yorker, so we went for breakfast at the restaurant at the top of the Beekman Tower Hotel in the East Fifties. I had a perfectly acceptable eggs Benedict with smoked salmon and hot coffee, for a change. The views are really terrific. The city is truly at its loveliest, but a riot of pollen. I returned home, wheezing like Chris Christie vetoing marriage equality, in time to pop an antihistamine and receive my order from FreshDirect.
My local grocer is Gristede's. It's both grubbily down-at-heel and shockingly expensive. Moreover, I'm not super jazzed on John Catsimatidis's politics, so I try to avoid it. And truly, I love FreshDirect. I've never received anything that isn't as good, or better, than if I'd picked it out myself. Having food in the fridge, freezer, and pantry calms me right down. It also makes me eat a ton, like a dog with no satiety mechanism.
I immediately ate a handful of ridiculously good strawberries, and poured myself a bowl of Kettle salt-and-pepper potato chips, and promptly stowed the bag out of sight (also like a dog, if I can't see the food, I'm less prone to eat a week's worth of groceries in one sitting).
Up to 96th Street to rent a movie with my friend Abigail and her kids, Daniel and Susanna, whom I adore. Abby made very good pan-sauteed chicken thighs with lots of herbs over Arborio rice and cooked spinach finished with butter and salt and pepper. I made oatmeal-raisin-ginger cookies — crisp, not soft — and bought strawberries for dessert.
Monday, April 16
Black iced coffee and Grape Nuts with soy milk. That 9th grade science classification of milk as being a colloidal dispersion has stuck with, and disgusted me. Aside from cooking or coffee-as-dessert, I almost never drink milk.
One of the many privileges of being freelance is that I can take five steps from my desk and be in the kitchen. I had bought chicken thighs (I kind of loathe white meat), which I cooked up with cremini mushrooms, some preserved lemons I made back in February, herbes de provence, mustard, and powdered clementine peel, one of my most prized ingredients I make by air-drying the rind and pulverizing it in a coffee grinder. It's fragrant and pretty; bright-orange dust that packs a great citrus punch. Makes truly great vinaigrette.
For supper, I stayed in and ate the chicken over whole-wheat Israeli couscous, which I first fried in some of the schmaltz, and a green salad with orange-y dressing. I was given a bag of chocolate Kisses for Purim. I've been keeping them in the freezer, so I had a few of those. I like letting the frozen pebble melt slowly in my mouth. Three of them take fully twenty minutes to eat.
Tuesday, April 17
Tax day. Perhaps a sense of relief made me eat more, but I'd have gorged just as much had I been facing an audit. Black iced coffee, and a Bosc pear eaten on the hoof.
I was in Soho. Over Christmas, I had been given a ridiculously generous gift card to one of the original Temples of Food, a violatingly expensive emporium. One would kind of have to be a dunderhead to shop there with anything but a gift card, although in truth, they're not as cynically overpriced as that Eli Zabar. I bought a brown-rice tuna-and-avocado roll (which, in truth, was totally reasonable at $7.50). Still hungry, I went to the bread counter and bought a steno-pad-thin slice of Sullivan Street mushroom pizza. Jim Lahey's no-knead bread was as much of a life-changer for me as my SodaStream, but the pizza was oddly lacking in flavor, a double injustice at close to five bucks, although free for me, which I try to bear in mind in that "and such small portions!" punch line kind of way. It was a day in which I couldn't get full. Twenty minutes later, I bought a ham-and-cheese croissant at the Grand Central Market and ate it on the way home.
In the evening, I went to my friend Roy's apartment for excellent pan-fried hamburgers, which we ate with Israeli couscous. (Three times in one week. I regret nothing.) A green salad, and for dessert, some dates and two chocolate truffles. The hint of booze in one of them briefly knocks me on my teetotal ass.
Wendesday, April 18
Black iced coffee, whole-grain English muffin with smoked-whitefish salad and avocado.
For lunch, some of the chicken I cooked — almost better cold than hot — an Asian pear, and a Persian cucumber.
In the evening, I went with my friend Paul to see Kenneth Lonergan's Margaret at the Elinor Bunin theater at Lincoln Center, the new cinematheque built underneath Diller & Scofidio's cunning lawn that torques like a Pringle. Margaret was an astonishment! I don't know why it didn't win every Oscar and why it isn't spoken of as a masterpiece. It is.
Beforehand, we grabbed a bite at Indie, the very good café on the ground floor. We shared a bowl of eggplant parmigiana, along with some crostini, thin, oil-brushed chips of baguette with three small bowls: a bright emerald pesto, a spicy-orange Romesco, and something braised and green with ricotta salata (Chard? Kale?). Neither Paul nor I could remember what it was once it arrived.
Dessert of some artisanal caramel corn from the concession stand, artisanally long in the transaction. A little too tooth-sticky, I'm afraid. But Margaret made me forget all of that. It was all I could do not to finish the bag within the first ten minutes of the film.