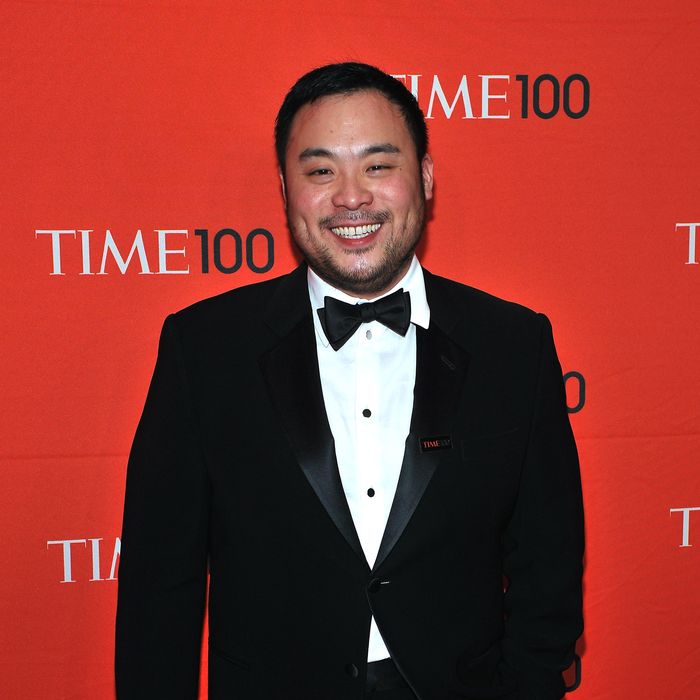 Chang, looking dapper.
Photo: Fernando Leon/Getty Images
Even though David Chang wasn't on this year's Time 100 list — René Redzepi and José Andrés made it this year; Chang made the '10 list — he was still at last night's event gala honoring all the nominees. We grabbed him for a few minutes and got him to finally reveal some new details about his ever-mysterious Momofuku project in Toronto. How mysterious is it? Even Chang isn't quite sure, though he does know it will be huge — the biggest project yet for his team.
What can you tell me about your Toronto restaurant?
It's going to be big. It's going to be our largest project we've ever done. But we've got a good team working. We've got a lot of good people in Toronto, but like any new restaurant, I'm still scared shitless.

When you say big, how big?
It's like two or three concepts in one beautiful building, next to the Shangri-La Hotel.

Three stories with one concept on each?
Yes.

What are the concepts?
I don't want to say. [laughs] Because at the very least you know that it very well could change at the last minute with me, so I don't want to say. All I know is that we're working on it.

Does it have a name?
Lucky Peach will be the first floor. Daisho is the third floor. Or the whole thing is Daisho? I don't even know. I'm not trying to throw you off. It's constantly changing.

So if you don't know what's happening, when is it happening?
July 28th!

Don't you have to figure it out by then?
You've got to figure it out, but it's like we have, like, 25 different types of scenarios that we laid out. So I don't know exactly how it's going to work out.

What inspired it? Why were you like, "I need to do a giant restaurant in Toronto?"
It wasn't so much that it was giant. It was more like, you rarely get to work with a new building, a new kitchen, and someone that's going to support us in something new. Which is why when Sydney was an opportunity, we jumped on it, and it's been a lot of fun. So that opportunity doesn't happen in New York that often, right?

How often do you get back in the kitchen?
Uh, I've spent more time in the kitchens in Sydney than I have in New York this year. But, you know, the same people that make the delicious food are the same people that are going to make it if I'm there or not there.

Are any New York people going to go to Toronto?
Yes. We're moving several people up.

People that we know?
Not other than their friends or loved ones. Toronto is an awesome town. And we've sent about ten people up there that might want to go. Nine people want to move up there. I mean, most people haven't been. Toronto is a lot of fun.

Will you be there for the film festival in September?
Yes.

Me too, I hope.
Okay, so we can have the same interview and I'll give you proper answers after the fact, so yes, follow up. This is what we did, this is how we opened.
Earlier: Momofuku, Eh?
Related: René Redzepi and José Andrés's Trophy Shelves Just Got More Crammed