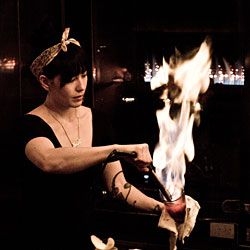 The red-hot poker is cool, but you won't be able to buy your own.
Photo: Travis Huggett
Grub heard a rumor that Booker & Dax was developing something along the lines of Momofuku's secret lab, so we got co-mastermind Dave Arnold on the phone to confirm. "The original idea of Booker & Dax was to build equipment. The bar came first, but it's an offshoot of the space we haven't started yet," he told us. However, that's set to change. The team has secured a 700-square-foot workshop and laboratory space on Eldridge Street, where they'll soon begin developing "kitchen stuff and stuff for the home bar."
Arnold stayed fairly mum on which technologies he hoped to explore first, mentioning vaguely that he'd probably play around more with "carbonation," and that partners David Chang and Drew Salmon would "tear my head off if I told you what we were going to do."
Yikes. Or maybe they'd do something with the red-hot poker that's gained some notoriety at Booker & Dax? "We don't have any plans to sell the red hot poker. Because the insurance liability, and they don't last super long," he said. In fact, Arnold hopes Booker & Dax's equipment arm won't just be fancy stuff for fancy restaurants and bars: "One of my eventual goals is to build something that's in people's homes." In the meantime, the first step is "strategizing." And tell your nieces and nephews to dust off their résumés: The team may be looking for an engineering intern soon.
Until the lab is set up, Arnold's experimental urges are confined to cocktails at Booker & Dax. Lucky for us, the bar is rolling out a new one today: a Mexican "triptych" of three cocktails in one. "The entire thing equals about one drink" Arnold attests. Today's new addition is the bar's version of a michelada, a carbonated mixture of tomato water, clarified Sriracha, chilies, and salt. There's also a tequila-and-blueberry concoction, and a straight shot of mescal. "They fit together and they make sense. You can drink them really quickly without getting sloshed," Arnold said. If this triptych takes off, the bar might add others. It's just the latest experiment from a guy who always has something up his sleeve.
Earlier: Dave Arnold's Latest Scheme
Dave Arnold and David Chang Are Officially in the Drinkz Biz Together