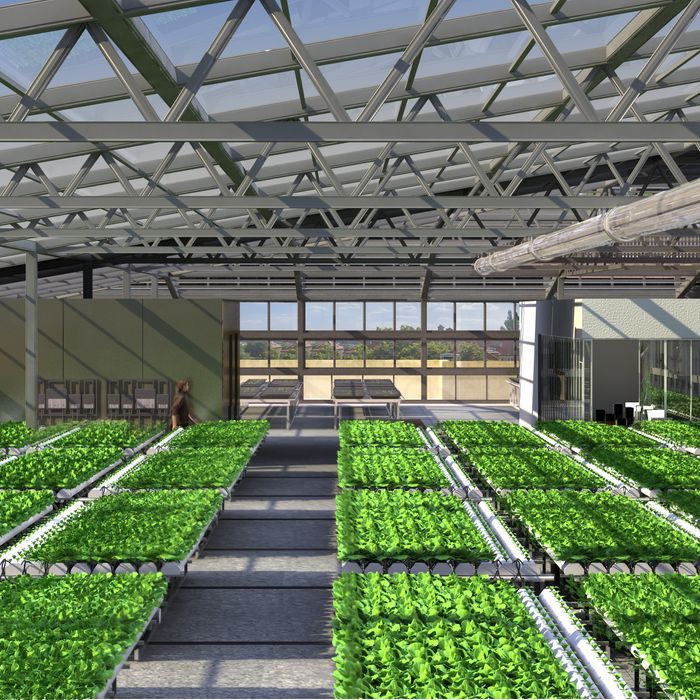 A rendering of the greenhouse.
Photo: Courtesy BrightFarms
New York's rooftop farming trend has been gaining steam: Green patches, beehives, and even micro fish hatcheries have cropped up on top of brownstones and skyscrapers. But the urban-agriculture boomlet is about to get a turbo boost. On Thursday, a company called BrightFarms will unveil plans for a massive garden in the sky, a 100,000-square-foot hydroponic greenhouse atop a warehouse in Sunset Park. When fully up and running later this year, BrightFarms says the operation will harvest 1 million pounds of local produce per year — enough to keep 5,000 New Yorkers in salads.

BrightFarms' long-term goal is to plant more micro-greenhouses above supermarkets and restaurants all over the city, so the picked-to-plate lag for lettuces, cucumbers, kale, herbs, and several varieties of tomatoes would be reduced to hours. Spared the up-to-six-day journey by truck from West Coast farms, these veggies would taste way fresher — they also require less water and no chemicals to grow.
Details aren't out yet on who will be selling the bounty of the Sunset Park rooftop, but BrightFarms is in talks with major supermarkets. And they have some big-name support: Mario Batali, always keen on serving fresh produce at his restaurants, is supporting the venture by appearing at Thursday's launch. No word yet on whether we can expect to dine on BrightFarms-grown tomatoes at our next Babbo pasta feed, but here's hoping.