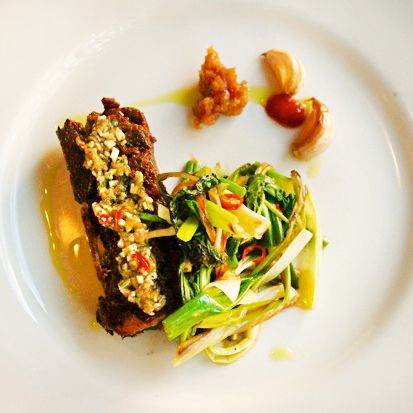 Alex Raij's slow-cooked lamb breast with horseradish.
Photo: Rebecca Flint Marx
There's little doubt that "Modern Jewish-American" food, as some have dubbed it, is having a moment: Restaurants like Mile End, Kutsher's Tribeca, Jack's Wife Freda, and Alex Raij's brand-new La Vara are reimagining the appeal of classic deli dishes. "In the U.S., they know gefilte fish, kugel, and matzo balls," says Balaboosta chef Einat Admony. "But Jewish cuisine comes from all over the world." With that spirit, she and Raij, along with La Newyorkina's Fany Gerson and the Israeli consulate's former special-events director Naama Shafi, are teaming up for a revisionist second-night Passover Seder that will reflect the chefs' Israeli, Argentine, and Mexican heritages.
"We wanted to have more interesting, but laid-back food," Admony says. "Nothing intimidating." So, instead of gefilte fish, there will be fish cakes with spicy, horseradish-infused tomato sauce. Matzo balls will be swapped out for traditional Iranian meatballs called gondi, made with chicken and chickpea flour, paired with ramps.
Also on the menu: egg schnitzel, which takes its inspiration from the Seder plate's traditional hard-boiled egg. The egg — soft-boiled, then coated with rice flour, panko, and matzo meal before being deep-fried — is something Admony grew up eating in Israel. (The saffron aïoli she'll serve it with is her own addition.)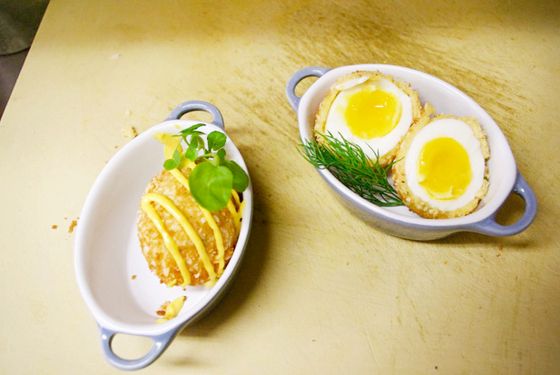 Egg schnitzel!Photo: Rebecca Flint Markx

For her part, Raij will be contributing lamb breast for a cordero al ajo cabanil, a dish that probably wasn't on most people's Seder tables growing up. A portion of slow-cooked meat is shaped into a brick, then seared off and served with charred spring onions, roasted garlic, date-and-preserved lemon-paste, and a gremolata spiked with horseradish. "The horseradish represents the maror" — or bitter herb — "on the Seder plate, and also cuts through the richness of the lamb," Raij says of the dish.
The dinner, to take place at Balaboosta, will serve 60, and a few spots are still available for late planners. It's $110 per person, but if that seems too steep (or the reservation book fills up before you can nab a spot), know that Raij serves the lamb as part of the regular menu at La Vara — albeit unaccompanied by a recounting of Biblical plagues and the resounding snap of matzo.