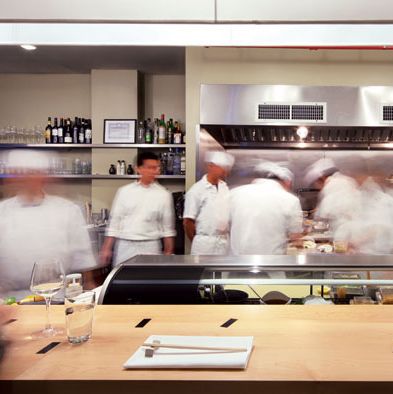 Photo: Melissa Hom/New York Magazine
In this week's New York, Adam Platt examines the sushi at Neta, which may just be the "new home" of the sushi establishment. Although the dining room at times resembles a "'corporate test kitchen' in the suburbs of New Jersey," the menu from Masa proteges Nik Kim and Jimmy Lau offers a "more casual, Zen-like alternative to the old mother ship uptown": Most sushi is sourced locally, and an entire roll section is devoted vegetables. Our critic enjoys "a simple serving of trumpet mushrooms, which the chefs sauté in round slices, then stack between thatches of thinly crisped potatoes spiced with serrano peppers"; four kinds of bluefin tuna; and mackerel, "which the chefs gently lacquer with soy or ice-cool dabs of uni flown in to the restaurant daily." The restaurant receives two stars.
Quite different from sushi is the artisanal food movement that has taken over Brooklyn's culinary sensibility these past few years. In the magazine's cover story, Benjamin Wallace asks: "Is artisanal Brooklyn a step forward for food or a sign of the apocalypse? And does it matter when the stuff tastes so good?"
Speaking of potentially problematic trends, ramps may taste great, but they do give you terrible breath. Luckily, Robin Raisfeld and Rob Patronite know the antidote. And while we're talking alliums, green shallots are currently at the Greenmarket, and you might consider serving them creamed with wine and bacon, like Ian Knauer suggests in his cookbook The Farm. Also trending, per the Robs: possible oversharing on wine labels (do we really need to know the ingredients?), and pistachios. And don't miss a look at the menu (with photos) at Blue Ribbon Sushi Izakaya, opening this week in the Thompson LES.