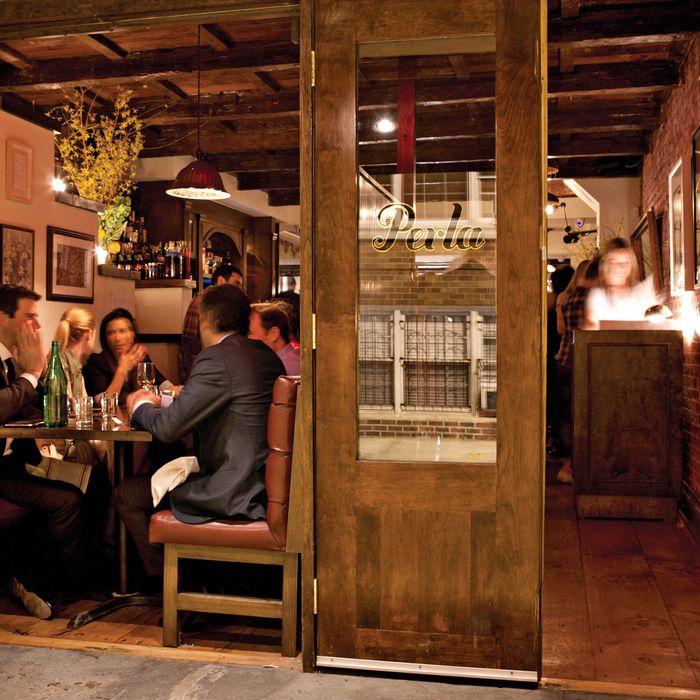 Perla.
Photo: Danny Kim/New York Magazine
In this week's New York, Adam Platt visits Perla, Gabe Stulman's new one, which this time focuses on "rustic Italian food." In a "a snug little space … decorated with tastefully curated retro tchotchkes," you'll find "esoteric varieties of handmade pasta," "obscure peasant delicacies like roasted lamb's head," and pizzas "fired in that great totem of the Italian nouveau-rustico movement, the wood-burning oven." On chef Michael Toscano's (Babbo, Manzo) menu, "sweetly crisped roast duck is a thing of beauty, and so is the chicken cacciatore for two," writes our critic; the restaurant receives two stars.
Meanwhile, in this "post-Cantonese era" of New York Chinese food, regional is where it's at, and the latest cuisine on the scene is Yunnan. The fare of China's most southwestern province shows influences from both Southeast Asia (lemongrass, edible blossoms) and the Himalayas (cured pork, farmer's-style cheeses), depending which part of the province you're in.
Meanwhile, Robin Raisfeld and Rob Patronite bring word that Mile End Sandwich is finally, finally opening — it's slated for next week. When that bows, expect seventeen options, including "pickled tongue on pumpernickel; grilled haloumi on pita; and this mouth-waterer they call a breakfast burger (fried egg, veal-sausage patty, apple butter, and maple syrup on an English muffin)." For something a little lighter, Parm's Rich Torrisi and Mario Carbone have furnished their "bafflingly good" broccoli rabe recipe to try at home.