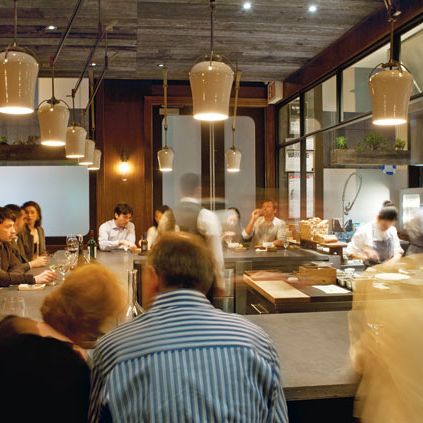 Atera, Matthew Lightner's tiny, tasting-menu-only restaurant in the old Compose space has drawn its share of curious reactions since opening last month, and now New York Magazine's own Adam Platt renders his verdict: It's fantastic. Platt gives Atera four stars (out of five), writing that Lightner "wants to stimulate, to educate, and to entertain, and in terms of range, technique, and quirky inventiveness, he does as good a job of this as any chef in New York since the glory days of the great molecular gastronomist Wylie Dufresne."
In a review that will appear in next week's magazine, Platt calls attention to a "quail egg" that's actually "a whipped-egg aïoli bound with xanthan gum and brined in vinegar," a frozen peanut made of foie gras, a faux razor clam (clam inside an edible "shell" made of dry bread painted with squid ink) and "a marshmallow-soft sweetbread, which Lightner covers with a savory, strangely addictive hazelnut-toffee sauce." And, Platt says, make sure you save room for the the petits fours at the end of the meal.
The restaurant only has seventeen seats, so we'd suggest making your reservation sooner rather than later if you want to see what the restaurant is all about.
A Feast in Disguise [NYM]
Related: What to Eat at Atera