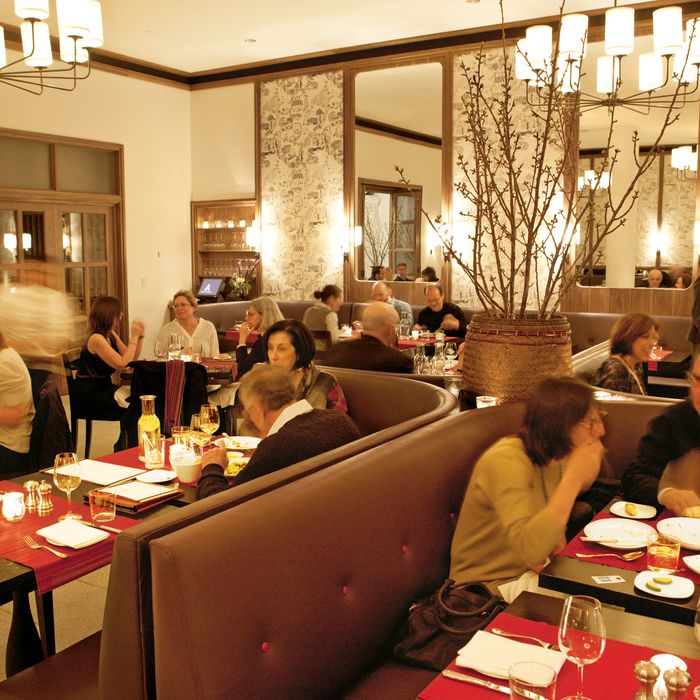 Alison 18 is Alison Price Becker's New York reprise.
Photo: Danny Kim
In this week's New York, Adam Platt examines Alison 18, the return-to-town of restaurateur Alison Price Becker, who decamped to the Hamptons a decade ago after shuttering her beloved Alison's on Dominick. This reprise is decked in a "classically clean, if slightly generic, neo-casual style," with waiters in "white topcoats and straight purple ties." Chef Robert Gurvich offers a "straightforward New American bistro-style menu [that] has been streamlined for today's simpler, more robust tastes." Unfortunately, it doesn't always work: Our critic's "chewy herb-steamed mussels tasted like a relic from the great mussels boom of the eighties," and the fettucini is deemed "droopy and underwhelming." Soups, salads, a braised veal shank, and rotisserie-cooked items get a better reception; the restaurant earns one star.
Meanwhile, Rob Patronite and Robin Raisfeld bring news of some openings and a burgeoning eating district: West 8th Street. As the duo reports, the block once known for its shoe stores is giving way to specialists in sashimi, organic juices, artisanal popcorn, craft beer, and more. The Robs also have the story on two openings elsewhere: Cornelius Gallagher's (Oceana) pan-Asian Dragonfly, and Ribalta, a pizza school and restaurant serving three styles of pies.
If crafty, DIY food scenes are more your jam, the Robs have helpfully rounded up opening dates for the city's various food markets. And with Easter happening on Sunday, Del Posto chef Mark Ladner will serve a Roman-style midday feast highlighting "whole roasted suckling lamb." Fish lovers might opt instead to stay in and make April Bloomfield's smoked trout and potato salad.