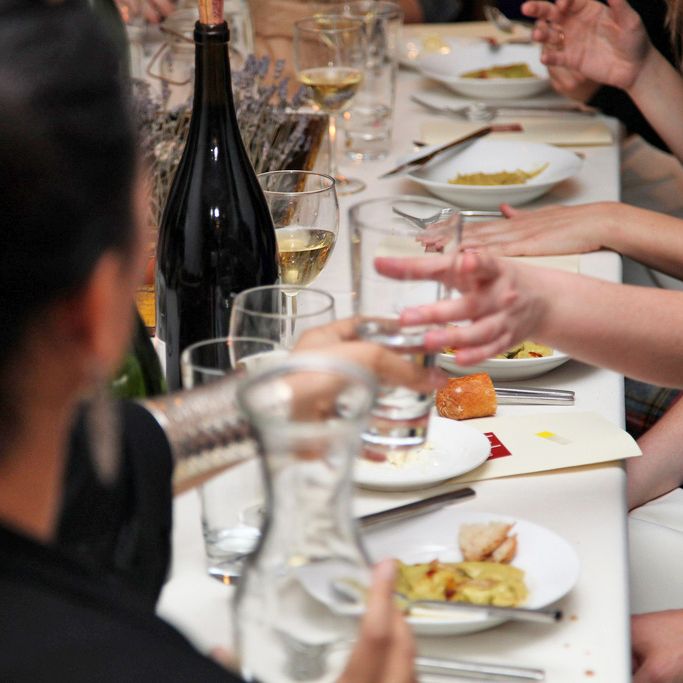 A typical night at Worth Kitchen.
Photo: Courtesy Worth Kitchen
We've been chronicling the goings-on at Worth Kitchen, the supper club Felipe Donnelly runs with his wife, Tamy, for over year, and now Donnelly tells us they're opening a restaurant, Cómodo. The couple just signed a lease for the former Salt space at 58 MacDougal, and they plan to debut "hopefully before summer," he says. Donnelly quit his job in advertising last year to do catering and run Worth (now at the City Grit space) full-time, and he will be the chef. Menu-wise, Donnelly plans to use local ingredients, but "every dish will have a Latin American flavor," reflecting the couple's Colombian and Mexican upbringings.
As it happens, Worth has served as a useful laboratory for testing dishes on real eaters. Donnelly says he's cooked a different menu at each month's dinner and asked for diner feedback. By far the most popular dish (definitely going on Cómodo's menu) has been lamb sliders served on pão de queijo (Brazilian cheese bread) buns. "I've never received so many compliments," he tells us. Also appearing: a pan-seared duck with caramelized sauce, and an aji tiradito dish with Meyer lemon, sesame oil, and soy that we sampled a few years ago (there will be a ceviche of the day and a tiradito of the day). The couple is seeking a beer-and-wine license and hopes to do sake cocktails, which, it happens, are big in Brazil. For now you can taste those lamb sliders and other dishes at the upcoming Worth Kitchen dinner on March 23; tickets here.
Earlier: Is NYC Finally Cracking Down on Supper Clubs? (Updated)
Supper Clubs Getting Savvier