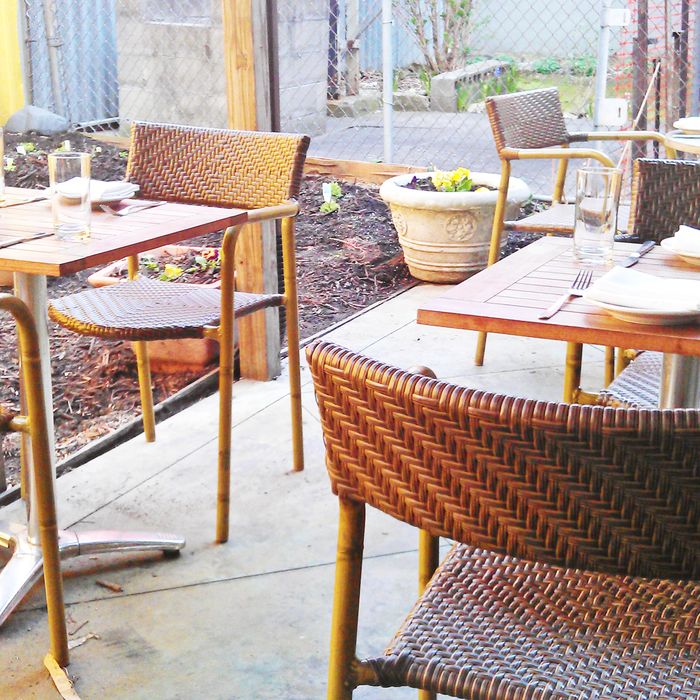 Anella's garden is a particularly sublime option.
Photo: Courtesy Anella
It probably sucks to be a penguin right now, but for us, this crazy-warm weather means one thing: patio time. And the sooner the better, since it's Friday afternoon. It's a rare spring that sees restaurants and bars rolling out their outdoor seating in March, but we'll take it: Here's a lineup of where to eat and drink outdoors now, and what's coming up soon. So bottoms up — and into a patio chair. It's almost happy hour.
Already Open:
Abe & Arthur's
Anella
Bar Basque
Barolo
Bierkraft
David Burke Garden
DBGB
Edi & the Wolf
5 Ninth
The Frying Pan
Gansevoort Park Rooftop
Home Restaurant
Jimmy
The John Dory Oyster Bar
Killmeyer's Old Bavaria Inn
Kittichai
La Bierreria
Matisse
The Mulberry Project
The Mussel Pot
Ofrenda
Pizza Roma
Riverpark
Spritzenhaus
Toloache 82
Tre Otto
The Trilby
Van Horn Sandwich Shop
The West 79th Street Boat Basin Cafe
Opening Soon:
A60 (opening May)
Bar d'Eau at Trump SoHo (near Memorial Day)
Beekman Beer Garden Beach Club (open by May 5)
The Crosby Bar (opening April 1)
The Crow's Nest (opening end of May)
Franny's (opening May 1)
Gowanus Yacht Club (opening next 2-3 weeks)
La Terrazza at Lincoln (opening May 1)
Le Bain
The Pier I Cafe (opening the last week in April)
Ruby's Old Time Bar and Grill (open Apr-Oct)
Sky Terrace
The Yard at Soho Grand (opening Easter weekend)