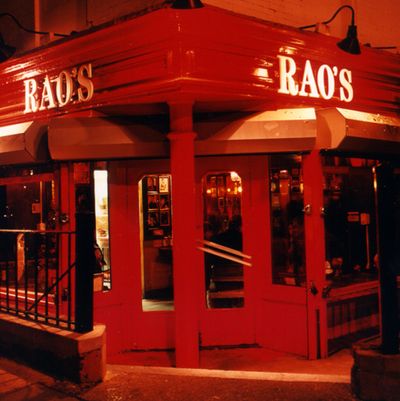 Not many people know what goes on behind these doors.
Photo: Courtesy of Rao's.
When my close friend Nan scored a 50th birthday dinner reservation at Rao's, she was so ecstatic, I'd have thought she'd booked a seat at Denmark's Noma rather than some century-old, twist-of-kitsch Italian joint in Spanish Harlem. I asked why the breathlessness and she answered, "Everyone will be jealous." Maybe, but I was dreading the trip.
I'm a wine writer who is (admittedly) usually quite spoiled when it comes to food and wine. But the food hasn't been the draw at Rao's since Mimi Sheraton raved in the Times … in 1977. The wine list has a terrible reputation. More to the point, I was fresh from doing my taxes and I was in despair that I was (yet again) reduced to dinners of steamed carrots and plagued by not-a-too-unfounded terror of homelessness. Yet, Nan had no date. It was a big birthday. She needed me. So, I counted the remaining shekels I should have stuffed into my mattress, put on war paint, and met her at the 6 train.
The smell of fried food was the first hint that we were close. Inside, it was a cozy Hobbit's hole. Dainty lights snaked up the walls as if it were Christmas year-round. Smiling men flashed laminated, Chiclet-like dental work. It was a Friday night, and Friday night was about the regulars, not the Jay-Zs of the world.
Nan's friend Paula was already waiting when we got there, chatting up two men who had "owned" their Friday-night table for decades. When Nick Vest asked me what I was drinking, out of professional responsibility I asked to see the wine list.
"Whadeyawant?" he shot at me. I asked what he had. "Chianti. Cabernet. Pinot Grigio."
"Martini, wet." I said. I needed a drink. Soon, cocktail hour ended and Frankie Sr. escorted us to our table. He bent down to warble the menu, an oral history that had not changed in decades.
Paula ordered almost everything on the menu, temporarily forgetting about my vegetarianism and not realizing my recent poverty. "We'll never be back here!" she said after ordering. "Got to make the most of it."

"Don't worry, they love us! We'll be regulars after this night," Nan countered. In her fantasy life, she was already married to a guy with a table.
The first to arrive in the parade of foods I wouldn't eat were navel-orange-size meatballs, smothered in crimson sauce. Next up was squid-ring seafood salad, followed by mountains of giant scampi like creatures out of The Twilight Zone.
Somewhere into the scampi Paula picked up the tablecloth and pressed it to her lips, which struck me as an odd move for a woman versed in business dining. Soon, she began to look a little … off. She excused herself and Nan and I watched as she clutched the outside railing for support, as if on the Titanic.
"Is she drunk?" I asked Nan. Paula flashed us a thin, courageous smile. She soon returned, a particular pastelike gray. She mentioned something about a bad tuna sandwich at midday, then added, "I should leave."
Only then did a polite and efficient Hazmat team swarm, spraying under her seat and the walls. They changed our linens, as if putting on a new diaper.
Nan and I were mystified. Turned out we were the only ones in the place who hadn't seen Paula get sick at the table. The two of us stared mortified at the food that I couldn't afford, didn't want to eat, and hadn't ordered in the first place.
Nan rolled her eyes and giggled. "She was right: We're never getting a reservation here again." But a table of six pinstripe-suited men sat nearby. One of them, barely half our age, chivalrously asked us to join.
We obliged, but as soon as we did, waiters ran out to the street and rattled down the window gates. "Are they closing up?" I asked the men.
Hardly. Cigars lit up. The jukebox cranked and Dean Martin crooned "That's Amore." The pinstripes bought me a Balvenie, and my friend a dance.The whole thing was so speakeasy that I expected black-gartered prostitutes to prance out at any moment. Instead, Frankie Sr. leapt to the floor and yelled: "Who knows this?!" Then the music changed from Dino to … Wait, was it "Macarena"?
¡Si!
Hearing the Latin rhythm, the small group of diners went wild, and the Friday-night regulars knew all the moves. Suddenly, I was a shy 16-year-old Yeshiva girl being pulled to the dance floor. But if my hips can roll out a mean mambo, this would be a cinch. Stretch out the palms to the ceiling. Fold this on that shoulder, then on the other. Shake the hip to one wall, then the other, squat, jump. Repeat.
I was dancing along with a Sandra Bullock look-alike in three-inch heels and Versace. It didn't make a difference that I didn't belong. No one noticed. Not even me.
Later, after midnight and lots more dancing, a waitress stopped by to deliver the bill and kick us out. "$186 plus huge tip," I informed Nan, thinking that Paula, who earns eight times what I do, stuck us with the bill. We emptied our bags and came up with what we needed. I'll concede, the cash-only experience was worth every cent, even if the food and wine were irrelevant.
A version of this story previously ran on Alice Feiring's personal blog.