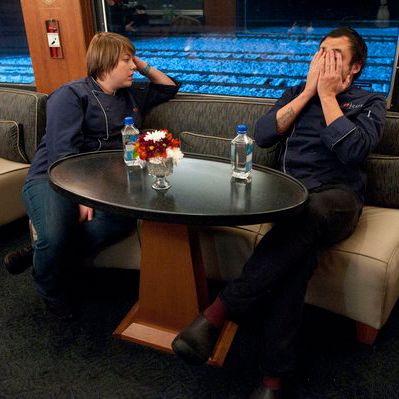 Even Paul can't believe it's taken this long to get here.
Photo: Virginia Sherwood/Bravo
Hooray! It's the finale, finally. Just like last season, a finale version of restaurant wars was basically last night's challenge. Remember back, seasons ago, when the finale just asked them to cook a great meal of their choosing for a judging panel? Le sigh.
No Quickfire, obviously, but the show did start with something Quickfire-ish: A bunch of chefs were brought in to compete to be Paul and Sarah's sous-chefs for the final challenge. The group was a mix of recently eliminated chefs (hi, Black Hagrid!), James Beard winners Barbara Lynch and Marco Canora, and a bunch of people who had been kicked off way earlier in the season, including that guy who had no idea how to butcher pork. Which, BTW, we totally called last week.
Except for Black Hagrid and maybe Grayson, we don't have much emotional attachment to any of these people, and the cooking part was all a blur. But we snapped back awake when Paul and Sarah had to choose their sous-chefs based on a blind taste-test of the dishes the challengers had cooked. Paul ended up choosing (real chef) Barbara Lynch, Ty-Lor Boring, Malibu Chris, and Black Hagrid. Sarah got Nyesha, Heather, Grayson, and Butchered-the-Butchering Guy. Needless to say, Sarah was not happy about that last pick, and it became a recurring theme through the episode. Who wasn't picked? Oh, James Beard award winner Marco Canora, who had to mope away with the other cast-offs. Though the producers did make sure his trip to Vancouver wasn't a total bust: They let him sit in on the dinners.
Other than a few issues with the butchering dude, prep goes surprisingly well — no one had a meltdown, everyone was helpful, no one horribly maimed everything. Paul's crab did go badly, but luckily he got psychic for a bit and had bought shrimp "just in case." Everyone seemed very happy to help, and Barbara Lynch talked about how proud she was of Paul.
Paul, however, had eyes for no one but his family. When his service began and he got to see his family dining at the restaurant, he immediately started crying, and then his dad started crying and it was very cute, especially when Paul said he was more worried about impressing his parents than the judges. Yay, Paul!
He made chawanmushi with edamame and spot prawns for the first course; followed that with grilled sea bass with clam dashi and pickled radishes and mushrooms; congee with soft scrambled eggs, uni, kale, and albacore was next; and a dessert was coconut ice cream, puffed rice, mangosteen, kumquats, and spicy Thai foam. Quickly: The first batch of judges (Marco Canora, Mark McCewan, Cat Cora, Tom, and Gail) got a perfectly cooked chawanmushi, but the second set of judges (Padma, Emeril, Hugh Acheson, Bill Terlato, and David Myers) got a bowl of overcooked egg custard. Emeril could not get enough of the broth in Paul's second course, and some of the judges found the textures in his third to be a bit blah. Everyone really enjoyed the contrasts in his dessert and found it quite refreshing.
On to Sarah: She also cried when she saw her family, and talked about how awesome her mom is. Yay, moms! Sarah's first course was squid-ink tagliatelle with prawn tartare and coconut. All of the judges thought it was a weird combination of stuff that ended up working perfectly together. Her second dish was rye-crusted trout with fennel sauce and pickled beets. The beets were way tough, and Tom thought the fish needed seasoning. The judges thought Sarah's third dish — braised veal cheeks with crispy sweetbreads and polenta — was deep and rich, but lacked texture. But! They couldn't get enough of her dessert, a hazelnut cake with kumquat and roasted-white-chocolate ganache (a.k.a., "caramel").
We still don't believe Tom that it was the best finale food ever, since he says that every season, but we will believe that both chefs pulled off a great meal, as any negatives mentioned at judges table were very nitpicky things.
In the end, the judges all agreed that Sarah took more risks, but that Paul paid more attention to detail. And so, Paul was (unsurprisingly) named Top Chef! Good job, Paul! His mom and dad had a very sweet proud-parent moment with him that was even cute enough to make us almost miss the fact that Sarah did not say one nice thing about Paul.
I would like to give a huge thank-you to all of you who stuck with me throughout this long, drawn-out, and somewhat disappointing season (with an extra hug to those of you who explained to comment trolls that I/we do not hate all of Top Chef, just this season of Top Chef). Let's hope for better things in season ten (!). And Tom, Gail, Padma: If you're reading this, I want to be a guest judge the next time you have a Muppet stop by.