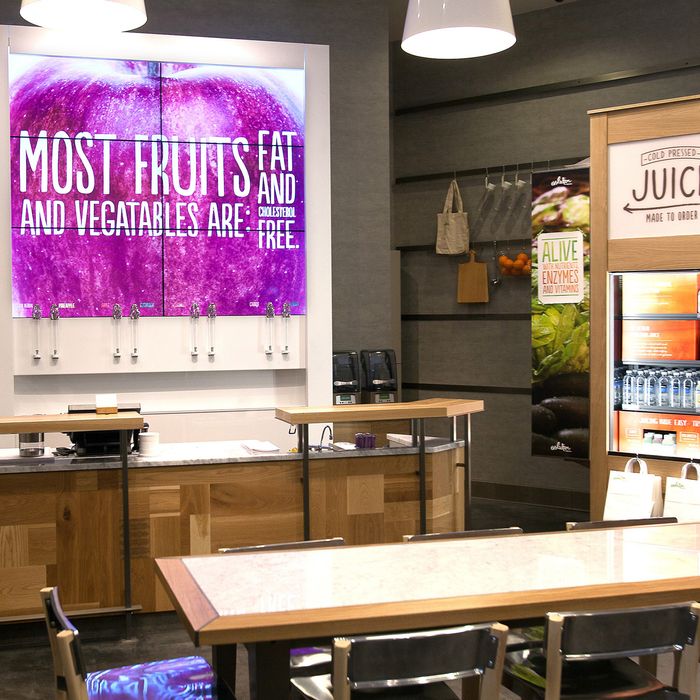 Vegatables!
Photo: Courtesy Starbucks
Remember how we mentioned that Starbucks had recruited a Liquiteria employee and was making plans to dominate the fresh-juice business? Well, better enjoy your mom-and-pop juiceries while you can: the coffee giant's first Evolution Fresh store opens today in Bellevue, Washington. (As genius as the company normally is at branding, it's evidently not so great at spelling, as the "vegatables" advertised in the photo proves.) USA Today got a look at the shop and reports that baristas have given way to "juice partners," who mix cold-pressed elixirs by pouring them to order from eight taps. Sample combinations: Field of Greens (greens, ginger, apple and cucumber), or Coconut Zen (coconut water, pineapple and cucumber); you can also buy 15.2-ounce bottled juices in similar flavors.
Evolution Fresh does not use exclusively organic produce, which for us is something of a deal-breaker. However, a perusal of the website reveals there is an organic veggie juice and couple of organic citrus options, presumably at a higher price point. The bottled juice is available at grocery stores in Washington and California, and soon it'll land in Starbucks everywhere. It will interesting to see whether this concept has the expansion potential Starbucks is banking on; whatever happens, today certainly does mark an "evolution" in the juicing trend.
Starbucks to open first Evolution Fresh juice store [USAT]
Earlier: Starbucks' Juicy Plans for Further Domination
Related: The Big Squeeze [NYM]