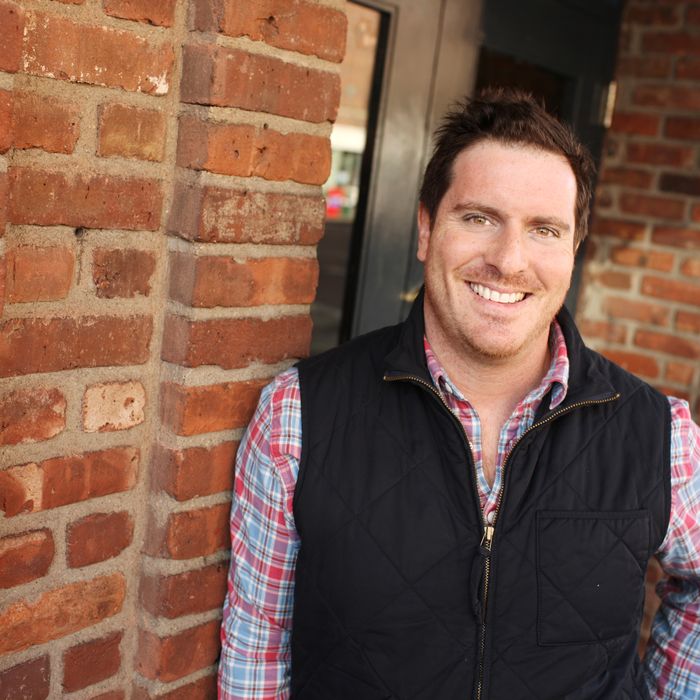 Mullen, outside his restaurant.
Photo: Melissa Hom
As soon as Seamus Mullen opened Tertulia last August, the place started garnering serious acclaim, a trend that hasn't slowed down in the seven months it's been open. (Adam Platt called it the city's 28th best restaurant.) "We worked really, really hard to make it what it is, and we've been very fortunate to be recognized for that," Mullen says of the love the place gets. He's hoping for a similar reaction next month when he releases his first book, Hero Food, about healthy eating as well as Mullen's rheumatoid-arthritis diagnosis. And just so you know, no ghostwriters here: "I knew nothing about publishing. I had no idea," Mullen says. But "I knew how to write, more or less. You know, I could write a sentence that was grammatically correct, and my book was so personal." Read more about Mullen's own healthy-eating — shockingly healthy, in fact, when you compare it to most chefs — in this week's New York Diet.
Friday, March 23
Breakfast tends to be pretty much the same: A latte, which I always have — I drink a lot of coffee. A glass of orange juice. A glass of organic kefir. That was breakfast.
For lunch, I met up with my chef de cuisine at Tertulia, Anup Joshi. We went to Gramercy Tavern for lunch, and we had Mike Anthony's tasting menu. We had a ton of stuff: kale salad, the famous smoked trout with pickled onions and onion puree, roasted monkfish with citrus vinaigrette, and we had sea bass with spaghetti squash. That was lunch, then I had another latte.
My dad was in town for the weekend. We're working on a couple of projects, including getting the garden on my roof set up. My dad's a farmer. What I've done in the past is just grow enough produce for myself, and some herbs for the restaurant. But this summer we're really trying to create a garden that can grow a significant amount of produce that we can actually use in the restaurant. Since we were working on that, I ordered some Mexican food. I had chicken tacos, black beans, and guacamole.
Saturday, March 24
Saturday morning I started with a latte and a glass of kefir.
For lunch, I had Mexican food again. Huevos rancheros, a vegetable-and-artichoke salad, and a latte.
That night I was in the restaurant, and for dinner I had a grilled escarole salad with anchovies and a soft-boiled egg. I also had a handful of Marcona almonds, which are my go-to snack. The rest of the service I was just tasting.
I usually don't eat family meal because it's at four o'clock in the afternoon. I tend to take a break during service and go to the office. I eat very little gluten, I don't eat very much dairy, and I don't eat a lot of red meat. We make really, really good family meals, but they're things like sloppy Joes and barbecue — pretty heavy-duty food.
When I got home I made a salad with arugula, avocado, and smoked sardines.
Sunday, March 25
That morning I had a latte and some yogurt from Coach farms.
For lunch, we went to Whitehall. I had two eggs with cannellini-bean ragout, and with that we had a baby-gem-lettuce salad with poached eggs — a lot of eggs.
I usually don't work on Sunday, but I went in the afternoon to go over the menu for Sunday night and tasted some stuff with the guys, and then I left at eight and went home and cooked dinner.
My dad was still here. At lot of times we'll roast chicken on Sundays, so we had a nice roasted chicken and I made a cherry-tomato compote with some leftover smoked sardines I had, and roasted carrots, and then some blanched asparagus with Parmigiano Reggiano. And a nice bottle of Grand Arbois from Jura, oxidized white wine. One of my favorite wines.
I've been cutting way back on alcohol, and I found that when I do have a glass of wine, I enjoy it so much more. It's really something special. But now I get totally bombed, you know? My tolerance is definitely a lot lower.
Monday, March 26
I met up with my chef de cuisine and Ken Orsi, who is my sous-chef. We met at the farmers' market, to check out what's good for the week. Then we walked over to Northern Spy for breakfast. I had baked eggs with grits, and we shared some pickled eggs. Lots of eggs.
Those guys went back to the restaurant and I had a meeting at the Standard, so I went up there and had a farro salad with cucumber, and butternut-squash soup. Then I was in the restaurant all afternoon.
Dinner was sushi from Momoya, which is a neighborhood place with decent sushi. It's sort of our go-to place, relatively inexpensive, but good sushi.
Tuesday, March 27
Breakfast was yogurt and granola and strawberries. And a latte.
For lunch, I had an arugula salad with some leftover roast chicken from Sunday night with avocado, Marcona almonds, and grapefruit. I also had a kale-and-celery-root salad. And a lentil-barley vegetable soup. I made all that, and a latte. I have a good coffee machine at home. I use Stumptown Hair Bender.
Dinner, I was trying some of the dishes that we're working on at the restaurant. So I had a radish-and-anchovy salad, and grilled swordfish with a sauce made out of smoked bones from the fish, with some grilled ramps and grilled fiddlehead ferns and grilled trumpet-of-death mushrooms. And there are some sugar-snap peas and pea greens on there.
Another dish we're working on is grilled sepia. We confit the sepia in olive oil until they're really tender, then grill them really hard over a wood fire. Then we'll serve that with a sauce made from smoked egg yolks and Marcona almonds. It has grilled leeks with it as well.
Wednesday, March 28
Breakfast was a latte with kefir. Every morning it's kefir or yogurt.
For lunch, I had a big salad of mixed greens with some braised chicken thighs, radishes, almonds, and endive. And of course a latte as well. My fourth cup of coffee. We're working on a project right now, so I'm working from home.
For dinner, there was a lot of asparagus, so we did grilled asparagus with grilled leeks and warm farro salad. I'm trying to be as healthy as I can. What I found over the years as a chef is you have a tendency to eat everything standing up really quickly while doing something else at the same time. And I'm trying to break that habit as much as I can.