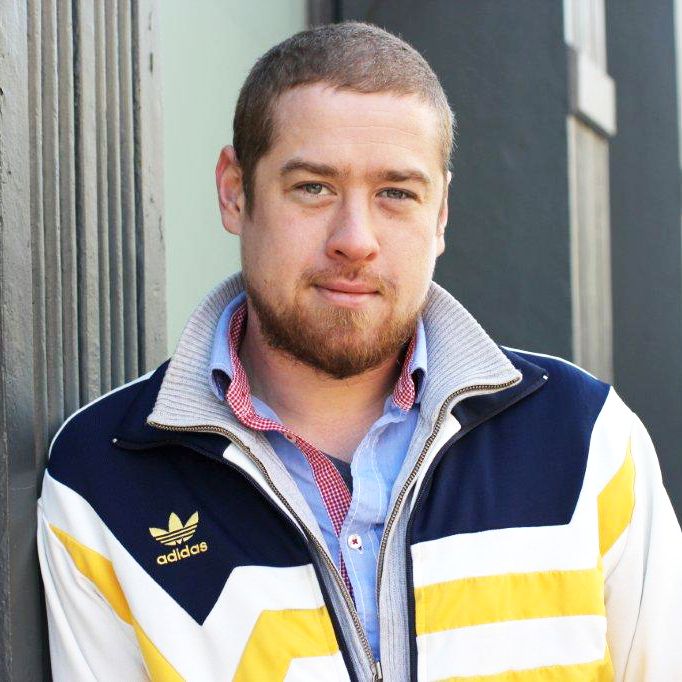 Skeen points fingers. And you know which one.
Photo: Melissa Hom
Unlike most chefs, Ryan Skeen is not out to charm you. He's a talented toque by anyone's account — Adam Platt once called him a "master of meathead cuisine"; Frank Bruni praised his "nimble internationalism"; and the Underground Gourmet applauded his rise to "burger stardom" — but he's also bolted or been bolt-locked out of at least ten restaurants in ten years. In the process, he's made food-world headlines again and again, and earned his reputation as the foremost enfant terrible of the New York restaurant scene.
Skeen is young and handsome, like a delinquent Chris O'Donnell, but he was all business — no fist-bumps, no flirting — when he sat down with Grub Street over a slow-nursed beer at Marshall Stack to talk through his career, from the early days with DiSpirito, Pelaccio, and Jean-Georges through the "pure evil" that was Allen & Delancey, up to his most recent departure after three months at Pera in Soho.
He took a while to loosen up, but eventually, a piercing stare gave way to boyish stories about old-time kitchen pals Chang and Carbone at Café Boulud; he laughed at an infamously snarky food blogger who "cries like a little baby"; and politely offered more time to talk if needed.
When asked if anyone gets to see his softer side, Skeen cracked a smile and said, "My girlfriend. She keeps a picture of me cuddling with her cats to show people that I'm sweet." But just when you think he's almost endearing, Skeen will quickly admit: "I'm an asshole," a declaration he made at least twice, while also explaining that he "developed a thick skin at a very young age" thanks to a "very intimidating" mother.
Skeen is currently mulling his next project, which he says will be "a passion restaurant," something he's "psyched and cautious" about. So what really happened at those other kitchens? Skeen pointed to his own perfectionism — "my problem is I won't take anything where less than 50 percent is mine; I need that control, I've learned that about myself" — before walking us through his experience at each restaurant (omitted are what he describes as deliberately short-lived "consulting" gigs at spots like 5 & Diamond and the General Greene). His peregrinations double as a mini-history of the last ten years in the New York restaurant scene.
Union Pacific/Café Boulud, January 2003–April 2004
Technically, Union Pacific was my first job in New York, about ten years ago, but I was only there for one week because I wanted to work for Andrew Carmellini and a job opened under him at Café Boulud. Carmellini was a legend even back then because of the training he'd give young cooks. Undoubtedly, Rocco [DiSpirito] is one of the most talented chefs America has ever had, but he was phasing himself out. There were a lot of photo shoots and things that, to me, weren't the reasons I became a cook.
5 Ninth, April 2004–May 2005
I loved Zak [Pelaccio], we had a great time, but it was a shit show. It was a conflict of a bunch of different interests … a lot of strong personalities. At that point, I was looking to build a restaurant from the ground up, but it only lasted ten months for me. It was difficult to explain restaurant culture to club people like the owners. They once asked my sous to make them food late at night, after the kitchen was closed. So I came in, in the middle of the night, and threatened to take my whole staff out if they ever did that again. Not the smartest move, but I didn't tolerate disrespect for the kitchen crew.
V, January 2006–May 2006
Jean-Georges had opened V — it got terrible reviews. It was a very disappointing experience. I think I'm too much of a cook to work for Jean-Georges. At that point, he wasn't paying a lot of attention to his New York kitchens … he was more concerned with Europe and China. It was a little depressing.
Resto, August 2006–June 2008
I'll always have a place in my heart for Resto. Chris [Pappanicholas] and I had our problems, but I respect him.
Irving Mill, August 2008–June 2009
My one regret? Irving Mill. I really wish that had gone better. The guys who owned that, they were the best — really good people. The restaurant was just so in debt by the time we got there. It just died a slow death. It was just too big of a restaurant, too far gone for us to turn it around. If I have any regret, I would have found a way to make it work.
Allen & Delancey, July 2009 –November 2009
That place was just pure evil. I've never seen a restaurant owner manipulate staff like he [Dick Friedberg] did. It was a beautiful restaurant, we had some great people there, but paychecks were regularly bounced, and when servers and staff are not getting paid … bad things happen. Ultimately we had to close the restaurant two weeks in a row because I told the owner, "You bounce a check, even on one of my dishwashers, I'm not opening up for business." That was good and bad of me. To have a chef that doesn't bend and who's going to be a dick to you is not good. In the end, bodyguards locked us out of the restaurant. There was more going on. There were really shady things going on … It was stuff I didn't even think was possible, stuff you never want to be a part of.
Fish Tag, August 2010–June 2011
Michael Psilakis and I had very different opinions on cuisine and technique, but as a person, he's amazing. Fish Tag never took off the way he wanted to, and by then, I was just kind of disillusioned myself. Then the review came out. I'm not going to say we didn't see it coming. It was very disheartening and I take full responsibility for that. I just don't think we approached Fish Tag with enough passion.
Pera Soho, December 2011–February 2012
At first I said I wanted to no part of it — it's midtown food, average food. It's not what I do. But they said they wanted all these things for Soho, Michelin stars, etc., and I bought it. But it was obvious from day one … or six weeks in … that I didn't really want to work at the restaurant. I hope they do well, but I don't consider it a real restaurant. So I was like, "Oh great, here we go again with Eater talking shit." A lot of other chefs leave [restaurants], but it's just that no one is tracking them. I don't care though. Eater is TMZ.