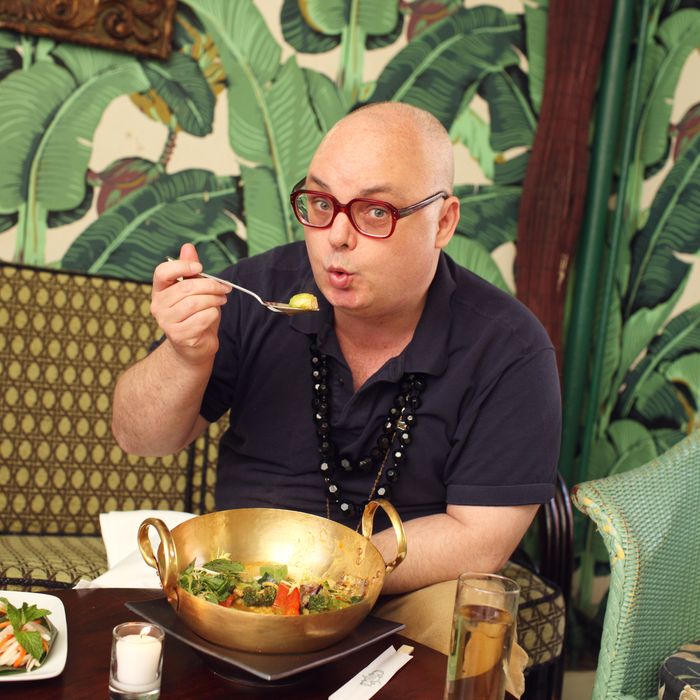 Mickey at Indochine, where he tells the owners, "I'm sorry, eggplant is not a meal."
Photo: Melissa Hom
Paper Magazine's outrageous editorial director, Mickey Boardman, would like to start off by saying, "Despite my girth — or maybe as a result of — I am not a connoisseur of fine cuisine." Unless someone else is paying. In which case Boardman will happily ingest "a lovingly-prepared baby radish grown organically by communist lesbians in the Napa Valley." Besides the Weight Watchers soup he once made that "was so stressful, I had to lay down for a week," he refuses to cook anything, abandoning his stove for so many years that Con-Ed wants to disconnect him. Read about Mickey's takeout from the cute guy at Cafe Habana and peanut M&M;'s with Vogue on the side in this week's New York Diet.
Friday, March 16
For breakfast, I have my usual carb-overload of one egg on a poppy-seed bagel, not toasted. I get one of those very un-chic hash brown patties, too. I wash it all down with a Diet Dr. Pepper. Horrifying, I know. I do Weight Watchers on and off … even when I'm "off," I love sitting at the Village Temple on 12th Street with a group of housewives who all just ate a big bag of Oreos in the shower; forget hipsters, those are my people.
Lunch was a high point from a chicness perspective: Artisanal. It's paradise for cheese lovers, but weirdly I always get the Bibb Lettuce salad with Parmesan black pepper dressing. It's the salad equivalent of Shaker furniture. You almost think they're joking when they bring it out because it's just lettuce and dressing. Naturally I gobble up three or four of their signature cheese puffs. I also have three giant hunks of bread. Really, I could live on bread and butter. I'm constantly having the discussion about which country has the most delicious butter, Ireland or France.
Dinner was Dojo to Go. I wish I could say I had dinner at Le Bernardin but, no. And I'm not ashamed. The soy burger dinner is a classic for me. If I had to choose my last meal, I would be torn between the Dojo soy burger and my usual at Roy Rogers: two large fries, a biscuit, and a large Coke. My Roy Rogers is across the street from Penn Station and really, it's the culinary equivalent of a crack house. Such a dump.
Saturday, March 17
I've had one sip of coffee in my life and I loathe smoking, but I do love candy. Anyway, I had tons of sugarless wafers for breakfast.
For an early dinner, I had the the Grand Slam Plate — brown rice with vegetables — from Eva's. It's this fabulous place where only hippies and body builders go. I really feel good about myself there. They don't even have French fries, for God's sake. Had a bottle of Sprite, which is embarrassing, but not as embarrassing as fruit punch.
Sunday, March 18
I've been sober for fifteen years, so Sunday I went to an AA meeting, then to my favorite corner deli for a poppy-seed bagel and Coca-Cola. The guy who works there is like a hot Middle-Eastern, Latin-Daddy type. Super friendly.
Had lunch at Café Mogador — poached eggs over spicy tomato sauce on an English muffin with hollandaise sauce, home fries, and salad on the side. Also, Moroccan mint tea, orange juice, Coca-Cola, chocolate lava cake. Moroccan food is not my favorite, but this food was delish. I went a little crazy with the beverages. I mean, orange juice, water, Moroccan tea, and Coke is overdoing it. But I love a pu-pu platter of stuff. Gimme a sampler!
For dinner, I went to Coffee Shop for takeout and got the veggie burger with pepper jack cheese, herbed French fries, and a Pepsi in a can. Now that B Bar has changed its veggie burger and fries, Coffee Shop is my favorite veggie burger combo. They've also changed theirs a little bit. God, I've turned into a crotchety old woman from the Upper West Side.
Monday, March 19
I had my usual egg and cheese on a bagel with a side of hash brown from Silo. But as it was being prepared, I chatted with the workers and ate a bag of peanut M&M;'s, because I stopped at the newsstand at the subway earlier to buy the new Vogue and I couldn't pass them up.
Lunch was the veggie combo from Minar. I love everything about India and Indian food. I'm a vegetarian, and it's one cuisine where they get that. Also, everything is soaked in ghee. I could guzzle ghee. I got the veggie platter with three dishes and rice plus some paratha. I usually get the cauliflower and potatoes, dal, and veggie dumplings. I adore dal and could eat it all day long. I also never met a dumpling I didn't like.
As a snack, I had a Granny Smith apple and a can of Arranciata, which looks so glamorous. I really should give up sugar. I've given it up before for four months and felt amazing. Well, either I felt amazing or I felt like I was about to collapse and have a nervous breakdown. I couldn't tell. But I do think sugar is the devil. I also ate the head of a chocolate Easter bunny from Walgreen's that my assistant Jordan bought.
Went to Indochine for dinner — my favorite. I must say, though, that they could have more vegetarian choices. They just discontinued the vegetarian combination, which was my regular dish for a million years. Now they have a veggie stew. They also love to say they have eggplant, but I'm sorry, eggplant is not a meal.
Tuesday, March 20
Same old breakfast at Silo.
Lunch was at Don Bogam, the yummy Korean restaurant in the same building as my office. I always get the Dolsot Bibimbap with mushrooms, tofu, and an egg on top. I love that it comes in a hot stone bowl and cooks as you eat it. I always put in too much hot sauce, but spicy food supposedly speeds up your metabolism.
Dinner was Café Habana to go. It's too hip for me to eat there. I feel the same about Café Gitane on my street. Yummy food, but I feel unworthy. I always order the vegetarian plate, which is rice and beans with a vegetable. It's so fresh and delicious. I also get an order of fries. And they have Mexican Coke, which is so much better than American. Also, the deliveryman Alejandro is a sexy little bodybuilder with tattoos. I love him.
Wednesday, March 21
Breakfast was egg on a bagel from Speedy. I went to work a different way that day.
For lunch, I got a mozzarella, tomato, and basil sandwich from Cosi. I love the bread from Cosi and I make a bit of spectacle of myself grabbing pieces of bread from the free sample bowl.
Dinner was grilled cheese on rye with French fries and a seltzer with lemon from Washington Square Diner, which I love. My first real NYC apartment was on Macdougal Street in 1990 and I went here for all my meals. There's just something about a diner sandwich. My mother is Polish-American, so growing up outside Chicago our big treat was a fried bologna sandwich. My brother thinks it's the root of all our problems.