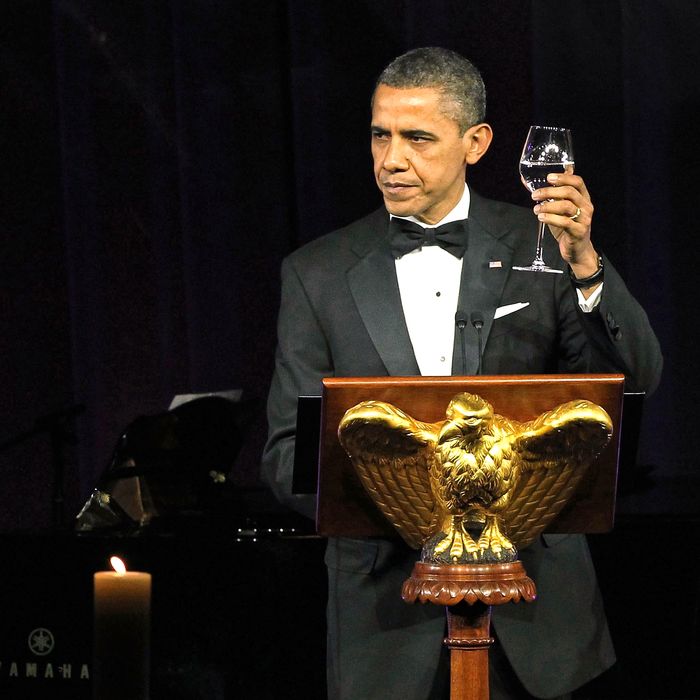 What are you drinking, Mr. President?
Photo: Alex Wong/Getty Images
Among the chatter leading up to last night's State Dinner was talk that the Obama Administration, in keeping with a policy it set last year, wouldn't be publicly releasing the names of the wines served at the meal. The menu simply said that American wines would be paired with each course, and the going theory is that the move was in response to backlash the White House received after serving pricey wine at a 2011 State Dinner.

Even today, after the whole event is said and done, and you can dig up just about any other State Dinner detail you'd like — Michelle wore a Marchesa dress, Stringer Bell and Bunk Moreland were both there — it's still difficult to track down any info about the wine. Here at Grub, we needed to know what the Obamas were hiding. And so, after some quick Googling serious sleuthing, we think we've come up with the list.
Dr. Vino points us to this roundup of the wines, which even comes equipped with an arsenal of tasting notes. So! What'd the POTUS put out for his guests?
Course: Appetizers
Wine: NV Thibaut-Janisson Brut, Virginia ($29 per bottle)
Tasting Note: "Quite clean, whiff of smoke, adequate acidity."
Course: Crisped halibut with Brussels sprouts, followed by salad
Wine: 2009 Peter Michael Chardonnay Ma Belle-Fille, California ($80)
Tasting Note: "Lots of toasted marshmallow and vanilla but with nice, acidic notes of lemon curd."
Course: Bison Wellington
Wine: 2008 Leonetti Cellar Cabernet Sauvignon Walla Walla Valley, Washington State ($65)
Tasting Note: "Chunky, black fruit moving to a somewhat tart and spiky finish."
Course: Steamed lemon pudding
Wine: 2007 Iron Horse Vineyards Russian Cuvée, California ($30)
Tasting Note: "Clean but a bit lost with the lemon pudding dessert."
The list is pretty pedestrian, so what's with all the secrecy? Grub Street's official conspiracy theory: Someone in the White House probably likes these particular wines and, times being what they are, was tired of seeing the bottles' prices skyrocket after they received the Obamas' endorsement.
Deep throat reveals Cameron state dinner wines [Dr. Vino]
Obama's Wine List Corked After $100-Plus Bottle Served [Bloomberg]