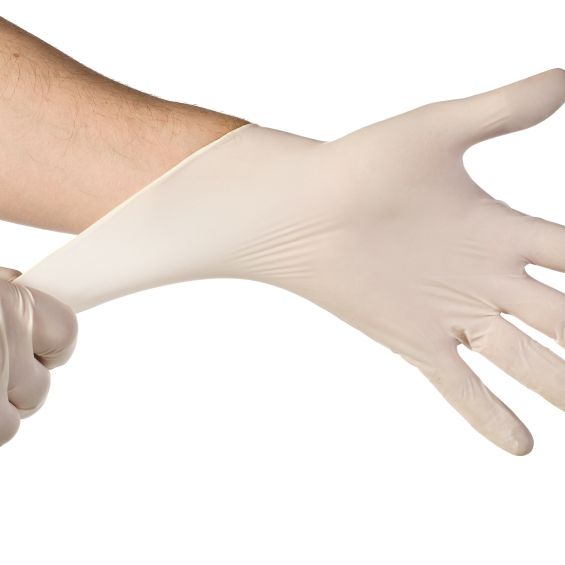 Get those gloves on!
Photo: iStockphoto
Recently, the Times once again brought to attention the ongoing tension between chefs and restaurateurs, and the city's Health Department. "Chefs and operators … navigate a gray area, balancing fidelity to their training and culture with adherence to health regulations," Glenn Collins wrote, adding, "Many chefs say the regulations leave too little room for time-tested practices that create delicious food." The crux of the never-ending saga, of course, is the fact that many of the DOHMH's requirements and regulations don't take into account things required for the (safe) preparation of great food: Cheeses and terrines can't be held at room temperature; sushi chefs must wear gloves at all times. And the addition of letter grades has obviously only exasperated the issue.
As the Times story demonstrates, just a couple of seemingly minor violations can result in B- or C-level grades, the restaurant equivalent of Scarlett Letters. Further complicating matters are inspectors who, according to pretty much every chef we've talked to, aren't necessarily familiar with health codes, focus too much energy on minute infractions, and whose opinions of what constitutes a violation can vary widely.
Seamus Mullen, whose restaurant Tertulia received 23 points during an inspection on February 13, says that during the inspection, the DOH inspector noticed "a few air bubbles" in the tube between the restaurant's sanitizer and its dish machine. The concern, according to Mullen: "[The inspector] told me that we needed to reattach it because we 'might' not have the proper [parts per million] in our final washing solution." Mullen adds that it was "certainly not a confirmed issue," and that the inspector never tested the final solution. But the restaurant nevertheless received a violation for it and was instructed to contest it at a hearing.
City Bakery's Maury Rubin says that five years ago at his Birdbath offshoot, he was cited for having a staff sink that was too close to the seating area. The entire place is only 240 square feet, and the sink was more than 8 feet from the nearest seat. "That seemed reasonable, I said as much," Rubin tells us. "But then the inspector takes four exaggerated, oversized steps from a seat to the sink and announces, 'It's four walking steps. That's too close.' What is a walking step?"
Gabriel Stulman tells us he was once cited for a bathroom door that "didn't have a functioning automatic door closure," and that the DOH harps on trash cans in the dining room not having lids, even "when it's obvious we are constantly using the trash cans."
Stulman isn't the only restaurateur who has bumped into the lid issue. Another prominent owner who wanted to remain nameless for this story tells us, "A young female inspector cited me because, 'If you're going to have a unisex bathroom you need a covered trash can so used tampons are not visible.' I realize that one is gross but it happened." (The restaurateur also relays the tale of another restaurant, where an "off-duty" inspector once grabbed a few martinis at the bar, then headed into the kitchen to offer a complimentary inspection while drunk.)
And, in case you're wondering, yes the DOHMH will, from time to time, sample restaurant workers' poo: After we heard a horror story of one restaurant's workers being asked for stool samples, we followed up with the Health Department to see whether they actually inspect places with that much, uh, thoroughness. Turns out they do! A rep told us:
The Health Department conducts investigations of food borne illness outbreaks. When a food borne illness investigation focuses on a restaurant-related outbreak and an outbreak is confirmed and includes the possibility that the cause of illness is associated with a sick food handler, the DOH can ask a worker or workers to submit a stool sample to our lab. These requests are made on a very infrequent basis.
Isa's Ignacio Mattos has at least one strategy for dealing with inspectors. He says that during his time at Il Buco, when inspectors wanted to throw bleach on perfectly fine food that it thought was potentially unsafe, Mattos simply offered to let the inspectors try some for themselves. "I asked and asked, but of course they wouldn't try it."