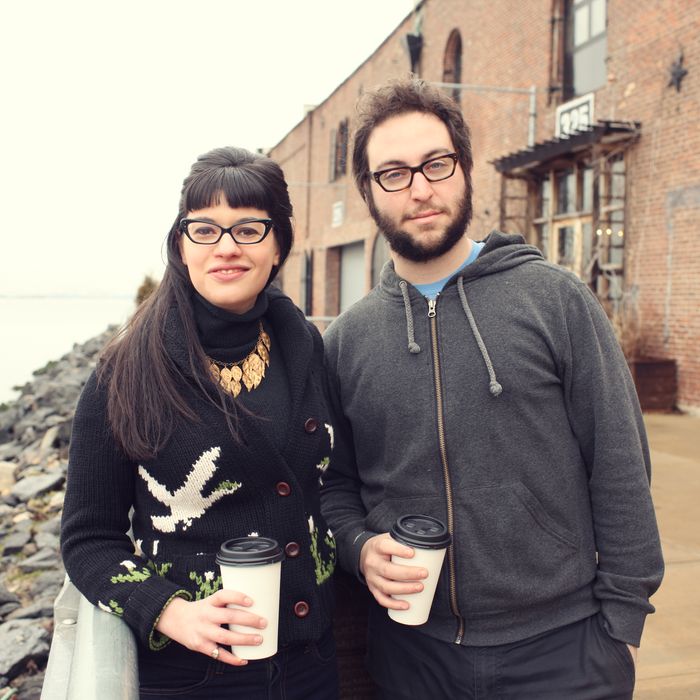 Bernamoff and Cohen, outside their new Red Hook kitchen.
Photo: Melissa Hom
Brooklyn's Mile End has been pretty much packed since it opened in 2010, partly by design. "My philosophy was, if you have very few seats, you always look full," explains co-owner Noah Bernamoff. "Even if you have very few customers." Now Bernamoff and wife Rae Cohen are expanding — a lot. They're moving their commissary kitchen to a larger location in Red Hook. They're opening a new Manhattan shop, Mile End Sandwich, very soon ("We'd be really good if we could get it open by the end of March," Bernamoff says). And they're putting the finishing touches on The Mile End Cookbook, which will be released in September. And yet, the couple still finds time to have a life outside their empire of smoked meat and poutine. Read all about it in this week's New York Diet.
Friday, February 24
Rae Cohen: RC: We met at the deli and got coffees to go. We had a meeting in Williamsburg, and then we went to breakfast after our meeting.
Noah Bernamoff: We went to Pies-n-Thighs, which was awesome. I had the chicken and waffle breakfast, which I really wanted. I was in the mood to pig out.
RC: I always try to be healthy, but at a place like Pies-n-Thighs, it doesn't really work out, so I had the hippie banjo, which was totally delicious.
NB: I had a Bloody Mary at Fort Defiance for lunch with my friend John, who was down from Montreal.
RC: And then?
NB: That was it. I didn't have any food.
RC: I went home to do some work. That's sort of our office now until we move into our new space in Red Hook. I knew that we had a big dinner coming up, so all I ate was some sauerkraut, which is my preferred snack.
NB: It's really gross that she can sit there and eat a bowl of it. It's not the sauerkraut in and of itself, that's obviously a favorite. It's her level of consumption of it.
RC: I eat an extraordinary amount of pickled vegetables.
NB: We met up with Max Levine, who's our third managing partner, and his girlfriend Kari Morris, who owns Morris Kitchen Ginger Syrup. The four of us, along with our friend Jon Feldman, who is director of operations for Stumptown, all went for some killer Sichuan in Bensonshurst. The spot's called Spicy Bampa, a.k.a., Bamboo Pavilion, a.k.a. Spicy Hot Pot. It is seriously unbelievable. We had dan dan noodles, and king ribs, which are deep-fried, and tea-smoked duck, this cast-iron flounder pot. It's not "hot pot," but it's all cooked in there with lotus root and woodear mushrooms, and tons of chile oil, and it's just so rich. Tons of Sichuan peppercorns — just blow-your-head-off-spicy.
RC: A feast, with some beer. Some Budweiser, right? We didn't really plan ahead for the B.Y.O.
NB: So I got a twelve-pack of Budweiser cans, like any self-respecting white person at an all-native Chinese restaurant.
RC: There's this great sweet spot across the street that has these crazy, cream-filled doughnuts. We tried to get the doughnuts — you have to go before you get dinner because they close at a respectable hour — but when we got there they were sold out.
NB: Well, they were sold out of the fried ones. They had the baked ones, but don't get the baked ones.
Saturday, February 25
NB: I got up and got a coffee at the deli, checked in on the staff, and went to Red Hook. Spent the whole day in Red Hook scrubbing the wood beams in our office. The building we're in is from the 1860s and we've left a lot of the old infrastructure exposed, which means it's really old and dirty. So I've been scrubbing the beams by hand with a steel brush. Some have called me crazy for taking on the task. I took a little break and walked over to Fairway and got coffee at Fairway.
RC: You didn't eat until dinner?
NB: No, I didn't eat until dinner. I mean, whatever … I was consuming narcotics all day.
RC: Saturday was the day for me to edit the cookbook that we're writing, which is near the end of its life in our hands. Soon to be sent to Hong Kong for printing, so we're going through the last rounds of editing that. So, started with a grapefruit at home. Had a coffee. Halfway through the day felt like I needed to get out and walk around, so I stopped at Kos Kaffe, which recently opened in our neighborhood. Got a coffee and one of their kale salads. Then walked over to the Greenmarket, picked up a few things. Later that afternoon, I fixed myself a little sandwich, with some of the bread that I got, hummus, tabbouleh, and feta. I eat that a lot.
NB: John was still down from Montreal, so we all went to Fatty Crab on the Upper West Side. Dinner was really good. Unfortunately, killer Sichuan tends to cancel out a lot of things that come after it. Anyway, it was still really good. We had some really nice Arctic char.
RC: And we had the Fatty Crab salad, which was nice. And some kind of wings.
NB: Those were fine. In that style, I think Pok Pok's wings are way better. And we had pork buns, and duck on the bone with coconut-basmati rice, that had almost-crisp rice mixed in. That was my favorite thing, that rice underneath the duck.
RC: To drink, I had their Manhattan, which has smoked Coke. I think I have too much smoke in my life, because it wasn't totally right for me. So I had that to start, and then followed up with an old-fashioned, which is my go-to.
NB: I had the PBR tallboy and Wild Turkey shot. I had a couple of those, which was real nice.
RC: My sister was meeting up with some friends at Manhattan Inn in Greenpoint, so our group headed over there for some cocktails and piano music.
Sunday, February 26
NB: I was at the deli earlier. We had a broken stool I was trying to fix, unsuccessfully. So I Plan B'd it and went down to Ikea to get a temporary stool so we wouldn't lose the chair for service. I got to Ikea too early, but apparently the café opens a half hour before the store does. So I had, um … the $1.99 breakfast at the café, which was … horrific. But I ate every bite because I really was hungry, and I was a little hungover. It's, like, lumpy-looking eggs. Unknown yellowness. And there was bacon that was so thinly sliced and so overcooked that it shriveled into this crazy architectural form. Later, after I recommenced my scrubbing of the beams, I walked over to the Red Hook Lobster Pound and got a lobster roll, Connecticut-style.
RC: I was hosting at the deli for brunch, so to get through the day I have the smoked-meat hash. I usually try and start with a half portion and see if I can be satisfied with that. And a bunch of coffee. My cousin Jefferey came and met me here after service. He just wanted to plow through some food, so he basically ordered everything on the menu, and I sort of helped him along and had a glass of Lambrusco.
NB: We went to the Gate for a meeting. It's the bar that we go to. It has that old-school, dank vibe. There's always a table, and they've got a lot of good beer. I had a Lionshead pilsner. Two? Three, maybe?
RC: I had Woodford Reserve, on the rocks, because they don't have Bulleit.
NB: That's very classy. I drink Wild Turkey, she drinks Bulleit.
RC: We went home and watched the Oscars and ordered from this really great Mexican place in Park Slope called Nuevo Mexico. Definitely our favorite Mexican in the neighborhood. We got burritos on Sunday night. You got the carnitas burrito. I got the vegetarian burrito. Some guacamole and chips on the side.
NB: And then I think I passed out after that.
Monday, February 27
NB: I got up really early and went down to Red Hook to meet up with some of our contractors. I picked up a coffee at Baked, and a pretty phenomenal slice of chocolate-banana-loaf cake. It was really good. Really good. That got me through most of the day.
RC: I was here at the deli conducting some interviews for front-of-the-house staff for the sandwich shop. I kind of ran in just as we were getting started and grabbed some coffee while I was talking to some candidates. It was lunchtime before I left, so I grabbed a borscht and a Brussels sprout salad, which we just added to the menu. Noah stopped by and I made him eat because if I don't make him, he doesn't eat enough.
NB: Yeah, I had a chicken-salad sandwich, which is my favorite sandwich. It's kind of like a childhood thing. It's like a kid's sandwich. Squishy bread and chicken salad.
RC: We thought we were going to go to a goat roast that night at Cut Brooklyn, so I was planning on having that for dinner, but got home kind of late. Noah was already there and we were both kind of exhausted, and we didn't make it to the goat roast.
NB: I'm a big proponent of, once nine o'clock hits, I'm done with dinner. I'll drink, but I don't want to eat after nine, whether I've had dinner or not.
Tuesday, February 28
NB: I had to go back to the deli incredibly early to fix the stool.
RC: Again!
NB: Again. It's now fixed, so that was really, really early.
RC: He does other things besides being construction manager — you fit some other things in there.
NB: Right, I fit other things in, but, running a restaurant, blah blah blah … I went to the sandwich shop at Bond, and got some coffee from the Smile, which is on the block with us. Really, really dig that place. Matt Kliegman's awesome and he's been really helpful in our attempts to communicate with the community board. He's been a big supporter.
RC: Tuesday for me started at the deli, with more interviews.
NB: We're hiring!
RC: We're really hiring. Put that in caps. I started off the day with our scramble with some rye toast and a coffee or two and sat through a number of interviews. Later, I had some broccoli soup from 'sNice, which was right up my alley. I was a vegetarian when we met, and he slowly worked on me and now I obviously eat everything.
NB: James Merker is going to be the chef in the kitchen over at Bond. We met with him and with Sam Filloramo, who's the chef in the kitchen at the deli. We all sat down at the warehouse and they banged out a few salads and sandwiches for us to try.
RC: Then after the tasting we went over to Mission Dolores and had a round of drinks. I had a Bulleit on the rocks.
NB: I had an Amagansett beer.
Wednesday, February 29
RC: I met with my friend Marci, the events manager at Frankie's and Prime Meats. We just got together and I had their avocado sandwich. It's on multigrain bread, with sprouts, fried shallots, and mayo. In the end that didn't pan out as a healthy choice. It sort of masks as being one, but it doesn't really stand out. But it was very delicious.
NB: I had a breakfast sandwich at the deli. Checked on the staff again.
RC: Later we had a meeting in midtown and brought some catering. We had a turkey sandwich, the duck bologna we're doing, some braciole, and some vegetarian options. And kind of snacked on that while we chatted. Then we stopped by Bond Street.
NB: Just seeing all the things that are wrong, making a list.
RC: And I was hungry so I went to the corner and grabbed chicken soup at Peels. Which was totally satisfying on a rainy day.
NB: That night I had to go to Red Hook and work, so I indulged in some staff-meal salad at the deli. I should add that the staff was already completely done with it by the time I got there, so it was just soggy salad, but I was super hungry.
RC: At the deli, my dinner is the romaine with anchovies and a garlic-confit vinaigrette, so I grabbed that before heading home and doing more editing.
NB: We're always revolving around the deli, so we find ourselves just eating food there. It's either grab something while you're there, or make a point of stopping and getting food somewhere else, and since you're already there, you might as well get something. And it's really, really light on the pocketbook. When you're opening another restaurant and moving your commissary kitchen to another space, you're definitely worried about the pocketbook.