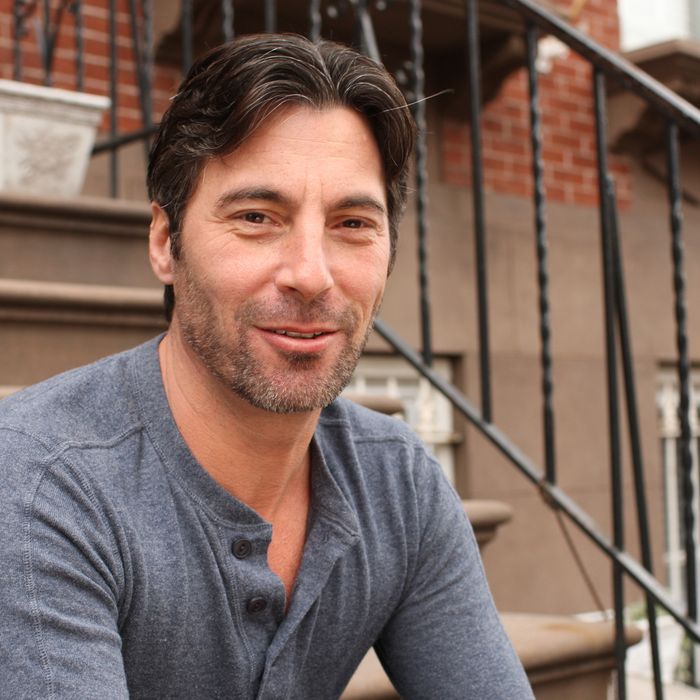 Iacono outside the home of his childhood friend — who was killed by a firecracker — across from Lucali.
Photo: Melissa Hom
Mark Iacono, the chef and owner of the incomparable Lucali, has walked by Torrisi Italian Specialties many times with his eyes closed. "I never wanted to see what they were doing; I was scared it would get into my head too much," he says. "'Cause that's kinda like what I'd want to do." But yesterday, over a six-course lunch — which included something Iacono had never eaten before, liver and onions — he finally looked. "It's actually not what I imagined. It's so great, but it's not going to mess with me." That's good. You wouldn't want anything to mess with Iacono, who despite his sweet disposition, did, one year ago, get stabbed multiple times by Benny Geritano, then arrested for attempted murder himself. All charges have been dropped because, well, like any rough 'n' tumble Brooklyn kids raised with decent street smarts in the seventies, no one talked. Until now.
As far as the "altercation" (as he calls it), he's not allowed to reveal too much, although he would like to clarify, "It was not over a girl." Beyond that, there's no dwelling. "I'm back to work three nights a week. My leg got it the worst — the femoral artery. I have no feeling in, say, about 50 percent of my body, maybe forever. But that's okay, it's nothin' really."
Iacono is nothing if not a tough guy: "People are like, 'You don't need psychological help or anything do you?' and I'm like, 'It was no big deal.' Like, I got into a fight. It was just a fight." He adds, "Yes, it was a near-death experience but it didn't affect me. The only thing I get upset about is how it affected the people around me."
Iacono has a 5-year-old daughter whom he clearly adores, and a staff at Lucali who are all connected to his childhood in Carroll Gardens, where his grandmother ran a beauty salon in her brownstone, simultaneously teaching ladies to cook. "It was different then, all the restaurants were just on the ground floor of people's houses. You'd walk in and give them some money to eat. That's why, when I started building Lucali, I didn't even know about things like wine permits. The only reason we don't have one is because I didn't know we needed one. To be honest, it never occurred to me that people would even want to drink at a pizzeria."
Speaking of wine, Iacono is contemplating selling wine at the famously BYOB Lucali, but, he's quick to add, "not because I'll make more money or anything. I'll make the same money no matter what; it's because people come with three or four bottles of their own wine and stay all night. I personally love it, but it annoys customers waiting two hours for a table." That said, any slight change at Lucali — a restaurant that many say is absolutely perfect, exactly as is — makes him very nervous. It's also why his next opening will be in Miami, in an old warehouse on Bay Road: "No one will judge me so hard there."
It's interesting that Iacono is so vulnerable to criticism, considering that when he first opened Lucali in 2006, he didn't own a computer and had never heard of Yelp. "I'd go 'Ma, can I borrow your computer?' and I'd look up useful things for building the restaurant, but that was the extent of me and technology." When New York Magazine's Rob and Robin first came in, one of them handed him a business card, prompting Iacono to ask a friend, "Have you heard of this magazine? Do people read it?"
Today Iacono does have an iPhone (which he hates typing on) and a Facebook page (which he can't figure out). He's endearingly out of the loop, confessing he's never heard of Acme, and that someone recently told him Il Buco, a source of Lucali's inspiration, had "opened up something like Eataly." None of this is to say that Mark Iacono is not savvy. One could even argue that his detachment from the trendy-Twitter-foodie-follower universe is actually what places him a league above everybody else — that he's a misfit in the cliquey food scene is maybe his magic dust.
"I've been breaking my ass so hard for so many years that I don't even know if I've had time to think about the success of Lucali," he says sincerely. Jay-Z and Beyoncé are his biggest fans, though he won't talk about them at all, and it sounds like investors are all over him for further Lucali expansion plans. Regarding these options, he says, "I'm considering a lot of things. I'd like to do a sauce line. Customers ask for bowls of my tomato sauce and drink it like soup! It's really crazy! But it would be nice to be like Rao's and make money in your sleep, you know?"
What does Iacono think of his pizza? "I ask myself all the time, 'Is it even that good?' Because I eat it every day and I can't tell anymore. I keep trying to figure out why people love it so much. Is it the candles? The pizza? Me? I don't know anymore." The answer is: all of it. Oh, and the headlines haven't hurt either, "I get people coming in, and they'll kinda like back-door it, and then they say, 'Oh, you're the guy who got stabbed!'" When asked if this offends him, Iacono warmly, but sort of sadly, says, "Nah. Nothing bothers me. Nothing. I let everything roll off my back. Believe me."
Over Torrisi's lemon Italian ice, Iacono openly admits that there is one thing he wishes people wouldn't say or think about him: "That I'm in the mob!" he says, without any hesitation. "I know everybody loves a good mafia story but … that stuff doesn't even really exist anymore; it's in the past."