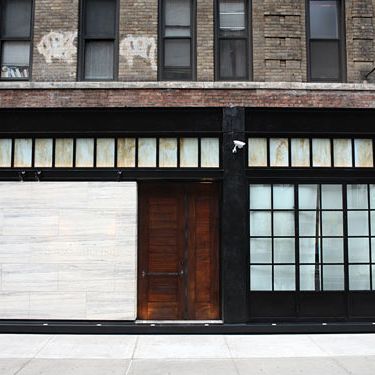 Ken & Cook, coming soon.
Photo: Melissa Hom
There were rumors circulating for a while that a juice bar would be moving into the Travertine space at 19 Kenmare, but now Grub learns that Artan Gjoni, a former general manager at Norwood and Jean-Georges Vongerichten's Mercer Kitchen, will take over the location and open Ken & Cook at the end of the month. The plan is for a 65-seat restaurant with outdoor tables and a downstairs lounge called L'il Charlie's (you may recall the space housed Little Charlie's Clam Bar before becoming Travertine).
What to expect from the restaurant: Richard Diamonte, who left as executive sous-chef at Jean Georges in January, will serve as chef, and is planning to offer dishes such as grilled-squid salad with yogurt, pickled chilis, and mache; pan-seared black sea bass with beans and bacon-leek vinaigrette; crispy pork belly with coleslaw and polenta; and short ribs with celery root purée.
As for that lounge, Gjoni promises, "It will have screenings and events, and will be a playground for grown-ups — not a loud space with bottle service."