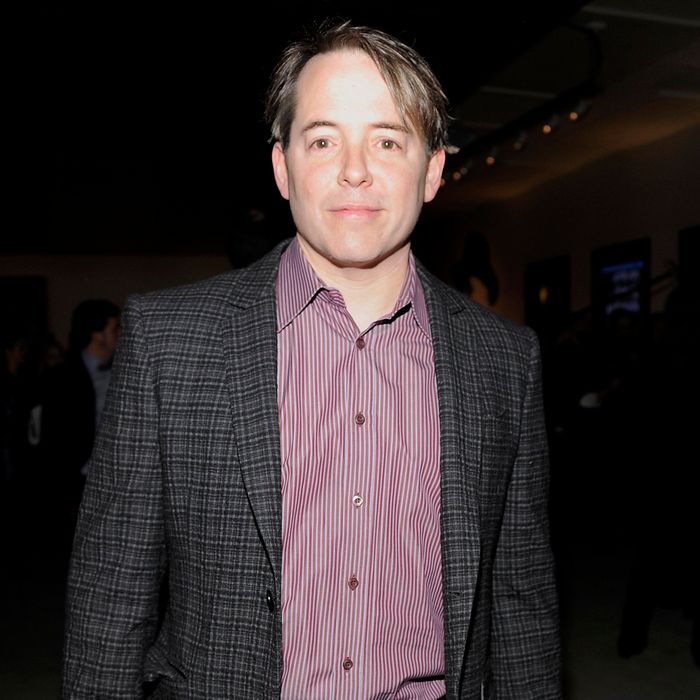 Broderick hit the half-century mark.
Photo: Clint Spaulding/PatrickMcMullan.com
Did you hear? Tim Tebow got traded to the Jets, so prepare yourself as Tebowmania sets in on New York City. Soon, our weekly roundups will strictly feature reports of Tebow living his Tebow life, like getting coffee, eating steaks, buying drinks, praying before dinner, that sort of thing. Until then though, we've still got the good ol' fashioned stories of regular celebrities, like Jeremy Lin showing up at Morimoto, Katie Holmes stopping by a cake decorator, and Dan Aykroyd buying some vodka. All this, and more celebrity sightings, straight ahead.
Fresco by Scotto: Dan Aykroyd was spotted asking the servers how his Crystal Head vodka was selling to patrons, and ended up buying a round for his table. [Page Six/NYP]
Make Meaning: Earlier this week, Katie Holmes and Suri Cruise paid the Upper East Side location a surprise visit that ended up being full of decorating cakes and other crafts. [Grub Street]
Morimoto: Over sushi with executives earlier this week, Jeremy Lin signed with Volvo to become their new spokesperson — and he did it while wearing gym shorts. [Page Six/NYP]
The River Cafe: Sarah Jessica Parker threw Matthew Broderick a surprise 50th birthday party this past weekend. Guests included many actors and Broadway insiders, but the best part of the night was when Broderick's son, James Wilkie, sang the Beatles' classic, "Here Comes The Sun." [Page Six/NYP]
Southern Hospitality: Chace Crawford, Erin Andrews, and Jerry O'Connell all celebrated St. Paddy's Day together by stuffing themselves with BBQ. Across the room, New York sports heroes Darryl Strawberry and Mario Manningham also enjoyed a meal. [Page Six/NYP]