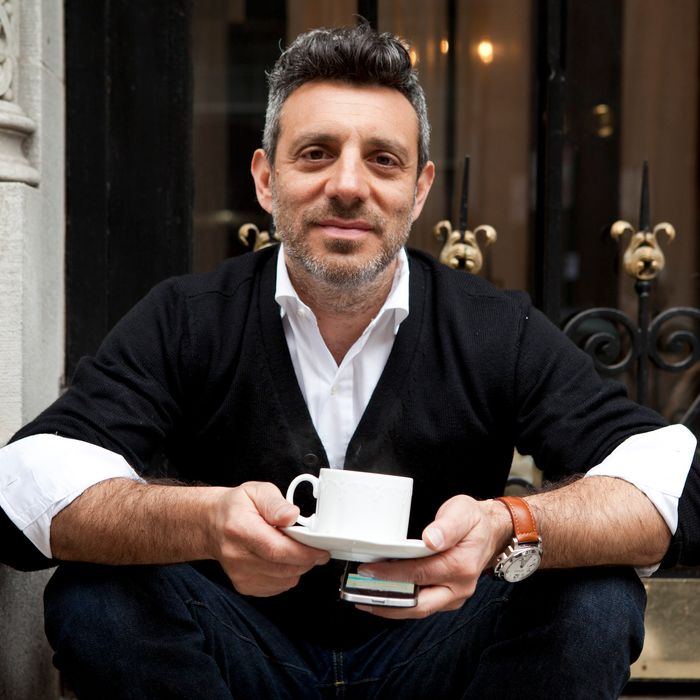 Why so fit? Fish, veggies, fruit — five to six days a week.
Photo: Nicole Franzen
John Delucie is chef-proprietor of the roaringly chic The Lion and ever-elegant Crown, and despite being as busy as any A-list restaurateur, DeLucie actually has a life. He's a well-respected author, a practicing musician, an active sports fan, a devoted son, a dim sum expert … and dare we say, the only thing Marilyn Hagerty adores more than Olive Garden antipasti. Read about his meal with Marilyn, the sandwich he can't stop swooning over, and how he stays so "lean and mean" in this week's New York Diet.
Friday, March 9
I was in London on business so I had some yogurt in the morning at my hotel accompanied by two double espressos with a side of water so I can create my own perfect americano. That's what I do every day for caffeine — total creature of habit.
Dinner was at the Arts Club with some London friends who ordered the entire menu consisting of sea bass, rib eyes, crudo's scalloped potatoes, and creamed spinach. Ate all of it. I usually have a very specific diet philosophy — fish, vegetables, and fresh fruit five to six days of the week, and on Sunday everything goes to shit. I like to stay lean and mean, during the week, you know? This night blew it, but whatever, blame travel!
Saturday, March 10
I flew back to New York and as always with flying, I packed nuts and dark chocolate. Habit. But I also grabbed a prosciutto sandwich from Pret a Manger and honestly, it was delicious! Like, so delicious that I can't stop thinking about it.
From the airport, I took a car directly to my beloved Sant Ambroeus in the West Village for a centocolore salad with avocado and mozzarella. I go there at least once a day; it's 25 steps from my house. They see me coming down the street and start getting things ready.
I was jet lagged and exhausted but got myself to work at The Lion. I ordered from the kitchen — a grilled Branzino with sautéed vegetables no butter or olive oil … needed some energy. I left the restaurant at eleven to go home early, but first I had a piece of dark chocolate; the best is Lindt with sea salt, 87 percent. Then I crashed. Hard.
Sunday, March 11
Sunday is my day to eat whatever I want. It starts with dim sum at Dim Sum Go Go, with about 30,000 dumplings, followed by coffee at La Colombe.
I visited my parents out on Long Island in the afternoon. My parents are great cooks and they make rigatoni with tomato sauce, antipasti which consists of mortadella, which is my favorite thing in the world, also fresh mozzarella and Prosciutto di Parma sliced as thin as parchment. I go berserk over this Italian bread they have. We have cannolis from my favorite bakery in Carroll Gardens — Monteleone's.
Monday, March 12
Back to business, big week ahead. Espresso, upon waking at home. Then I went to my trainer at Equinox, who I see three times a week. Told you, "Lean 'n' mean" all week long.
Then I had an egg white omelette with spinach and mushrooms at Sant Ambroeus, with no toast, plus two double espresso …off to the office.
Meetings all day, had a sandwich of fresh turkey with avocado and tomato on seven-grain. Hardly satisfying. It made me miss my Pret a Manger prosciutto from the airport, which I know sounds totally crazy. Such a memorable sandwich, seriously! Anyway …
I'm doing a vocal workshop on Mondays to get closer to my inner Luther Vandross; the last couple years I've been getting back into music. It's all these singers from Broadway — and me. I sing Hall and Oates, James Ingram, all this seventies music that sounds cheesy but is great. I grabbed a cherry and dark chocolate granola bar to get me through the class.
By 10 p.m., I was starving. I walked past Shake Shack on Eighth Avenue — no line! So I got a shake, burger, and fries. Ugh, against my rules but so worth it, so good. Gnarly piece of dark chocolate at home, then sleep. By the way, The Lion burgers are really good, too.
Tuesday, March 13
Had a meeting at Buvette, ordered yogurt, homemade granola, blood orange juice, and two double espressos. Everything was perfect and delicious. I wondered why I don't come there more often. So cute.
Ordered a Caesar salad from a local place near my office in Flatiron. Had no time to eat it, so it sat on my desk until the following morning, at room temperature the whole night. Nice.
Had an early dinner at The Lion before service. Grilled Branzino with artichokes. It's not on the menu — it's my own creation. I'd ideally go to Acme if I had the night off. Insane energy there. New York hasn't that kind of restaurant energy since …The Lion opened.
Wednesday, March 14
Sant Ambroeus for an egg-white omelette with spinach and shiitake mushrooms — with two espressos.
Headed up to Crown to cook for Marilyn the critic from North Dakota. Anderson Cooper wanted to take her to Crown, which was very cool of him. Before she came, I had an endive salad in the kitchen. She had lunch as a critic, so I was fairly nervous, the way I'd be with any critic. I really didn't want to be sold down the river by her! She's going on live TV to say how Crown played out next to Olive Garden, so I'm anxious. She said if I'm ever in wherever-the-hell-she's-from-Falls, to let her know and she'll take me to Olive Garden because I've never been to one before. I loved her; it's so American — doing your job as well as you can. She's drinking it all up, and so lovely.
Had an early dinner at Lion before service: fish, veggies, kale salad with cashews, some fresh fruit. The Knicks were on so I wound up watching at The Windsor. Someone at the table had their killer sweet potato fries so I snuck a few. After everything with Anderson Cooper and the lady, I couldn't help but sit there and think: I have a really great life.