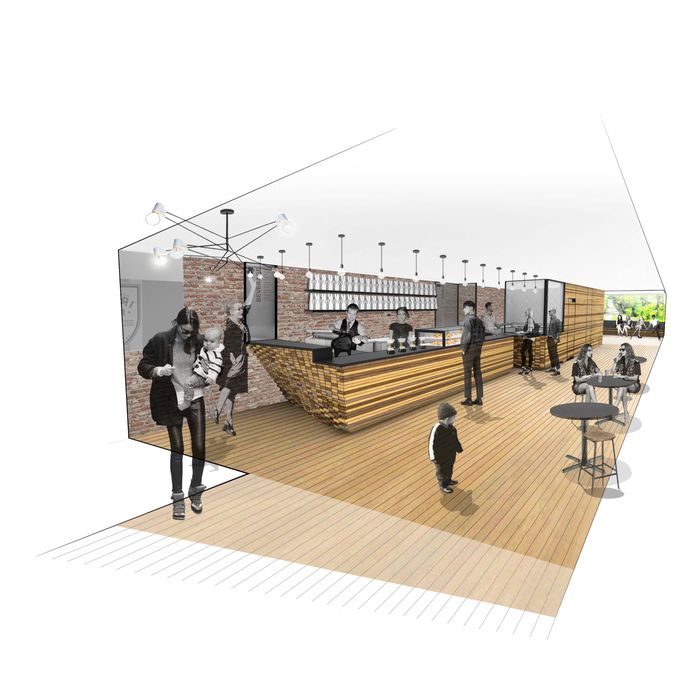 A rendering of the new location.
Photo: Courtesy Irving Farm / LevenBetts
Upper West Siders (and Grub Street Diet subject Sloane Crosley) will no doubt rejoice in the full-bodied, robust news that downtown bean stalwart Irving Farm Coffee Company is opening a new cafe at 224 West 79th Street. The 1,500-square-foot, 65-seat location will also mark the beginning of the company's rebranding.
The rustic coffee company, an Irving Place fixture since 1996, is moving uptown with a new look in tow; all beans sold by the company will still be roasted at its Hudson Valley facility, but co-owner Stephen Leven tells us that the new cafe will sport a decidedly more urban look, with exposed brick walls and a comfy seating area. And there will be a ten-foot community table made from reclaimed wood set up for less lounge-y types. Caffeinated options will come from the one-two punch provided by the shop's La Marzocco Strada and a custom Kalita pour-over station. In addition to coffee and espresso drinks, the menu will consist of pastries, charcuterie and sandwiches. Craft beer and a few wines by the glass will also be available. Look for Irving Farm to open the Upper West Side location in May.