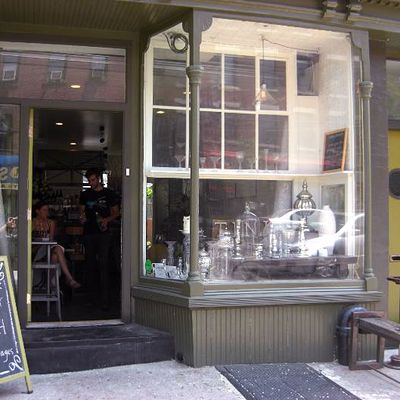 The restaurant on a brighter day.
Photo: Courtesy Home/Made
Visitors to Home/Made in Red Hook enjoying a glass of wine, espresso or a snack invariably come to remark that they feel like they're hanging out at a friend's apartment. Artist Leisah Swenson and chef Monica Byrne operate the rare kind of establishment that, when closed for regular renovations, arranges a fully stocked coffee station outside its front door… just in case you were planning to drop by. Byrne works wonders with brunch, a rare accomplishment these days, and even once moved Sam Sifton to write prose poetry about her mushroom lasagna. This all adds to the especially crummy news that yesterday, a fire inside the restaurant took out some windows, its ceiling, and stove. The restaurant's rolldown grate also needs to be replaced. As a good neighbor, the Red Hook CSA is asking friends of Home/Made to chip in with small donations. All the details can be found here.