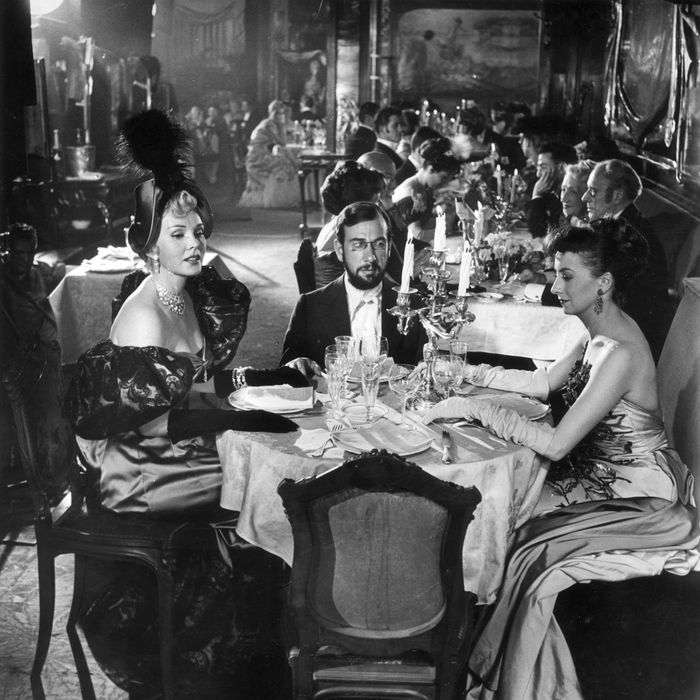 It helps if you show up with a young Zsa Zsa Gabor.
Photo: Hulton Archive/Getty Images
Restaurant diners can be divided into two distinct groups: The people who get VIP treatment … and everyone else. Restaurants have different names for the love and care they give to special guests — soigné, VIP, PD — but no matter what it's called, trust us when we say you want it. Great seats, free dishes sent out from kitchens, complimentary flutes of Champagne to drink while perusing the menu: These are the spoils. The good news is, you don't have to be a big-tipping regular, a chef, a celebrity, or even a food writer to get that kind of star service. But you do have to know how to work the delicate system that restaurant staffs have in place for separating the best from the rest.
As soon as you walk into a restaurant, front- and back-of-the-house staff members are keeping as close an eye as possible on you. In fact, computer systems like OpenTable have made it possible for that sort of attention to start before a customer walks into a restaurant. "We create a very in-depth [electronic] portfolio based on the understanding of the guest," says William Bradley, chef at Addison at the Grand Del Mar, which has an in-house system for tracking customer habits. "We have a database on every guest so that we know what to expect when they come in … how they order off the menu, things that they enjoy, if they start off every evening with martinis."
Restaurants will never come right out and tell customers that they're getting VIP treatment, but there are tell-tale signs: an extra app or two sent out as a gift from the kitchen, a tableside visit from the chef, a gratis after-dinner drink, an invitation to tour the kitchen.
There are several reasons why a restaurant will deem a customer "important": Staff members recognize them by name or appearance (either they're famous or they're good regulars), someone figures out the person is in the industry (restaurant staffers always look after their own), or the diner is identified during the meal as being a hard-core food lover who also happens to be cool to deal with. This last group is the one you are going to get into.
Follow the below tips, and you should be enjoying the soigné spoils by the time the first appetizers are cleared.
Be the nicest customer in the restaurant: If you're going to get special treatment, you need to make the staff want to give you that special treatment, and that means making them like you. Think of the front-of-the-house as gatekeepers. Are you stuck waiting for a table you had reserved? It's not an annoyance, it's an opportunity to show the probably swamped hostess that you're cool with it, and that you totally understand she's in the weeds. Just like a first date, you want to start off with a good impression, and keep the charm offensive going through the night.
Drink like an industry vet: Restaurant staffers drink. A lot. And that means you should definitely start dinner with an aperitif (or two). Fernet Branca is the restaurant industry's beverage de rigueur these days, but if you can't handle the woodsy herbaceousness of the Italian liqueur (or prefer it after you eat), go for brown spirits. "Anybody who starts to become inquisitive on whiskeys, bourbons, and Scotches is a flag right away," says John Anthony, assistant GM at Comme-Ça's Las Vegas outpost. "I'm happy to send out tastes if I see genuine interest."
The other benefit is that you'll endear yourself to the staff early, because, after all, you're ordering booze, which has the highest profit margin. And that $14 cocktail could be an investment that will pay out in the form of free food later in the meal. (And if the restaurant really likes you, they'll comp the cocktail anyway.)
Order like a boss: Avoid the green salad and chicken breast. Rachel Grisafi, a 16-year veteran server who now works at L.A.'s Sotto, tells us she gets pumped when people order bold items like lamb heart and liver stew. That's because people who work in restaurants tend to eat this way more often than non-industry types. (Other industry favorites: uni, lardo, squid ink, octopus, bone marrow, oxtail, foie gras.) Servers sympathize with diners who order what they'd order themselves. (Cooks do, too, and they pay special attention to tickets that they like.) Order one or two dishes that your server is excited about, and they'll often send out another one they like and think you should try — on the house.
Even if you're not into offal, there are still things you have to do when ordering: Don't order any modifications, ever. If there's a dietary issue with a dish on the menu, just don't order it. Dishes are constructed as such for a good reason, and nobody thinks that more than the kitchen staff that did the constructing. It's also important to think about how a meal will play out. That means, for example, don't order a long-cooking entrée without ordering apps, too. "If someone orders a steak well-done, and it's firing for 45 minutes, and they have nothing to nosh on [while that's happening], that's a tip that they're not a serious diner," Anthony says. "But when the service staff tells me that they've had a group ordering coursed-out entrées, apps, salads, and mains, we'll toss in free desserts."
Ask some questions: How you order is almost as important as what you order. When a guest is inquisitive, it sends a signal to staff members. Not only can questions tell servers that you really care about your food, they also let the staff know you trust them. So don't be afraid to inquire about an obscure ingredient listed on a menu, or to ask the server to help you decide between two dishes. "It all depends on how much a customer gives us back in interest," says Grisafi. "That just excites us as a server."
Don't go at brunch: This might seem obvious, but it's important to note. At most restaurants, brunch is a high-volume affair, designed to get buyers of $12 eggs in and out as quickly as possible. Not only that, but the restaurant's top staff members won't be working the brunch shift, and even if they were, what could they possibly send out? Soigné hash browns?
Don't be an asshole: You want to be seen as a die-hard foodie, not a blow-hard douche bag. Be cool, ask questions, engage the staff as much as possible. But don't brag, or name-drop, or even expect to get any special treatment.
If all of this sounds like you're doing a lot of work to accommodate a restaurant where you're paying to eat, you are. But that's the point: So many diners act entitled or indifferent in restaurants that standing out among the crowd is really as uncomplicated as doing your best to make the staff's job easier. It's a simple thing, really, and, generally, it will pay off dividends: The food will be better (and more plentiful), and the service will be genuinely warmer. And if something does come of it, make a point to be gracious (and to tip accordingly).
Speaking of graciousness: On your way out, don't forget to thank the captain or GM — and to grab their business card. Calling them directly for a reservation is the easiest way to ensure the same level of love on your next trip.