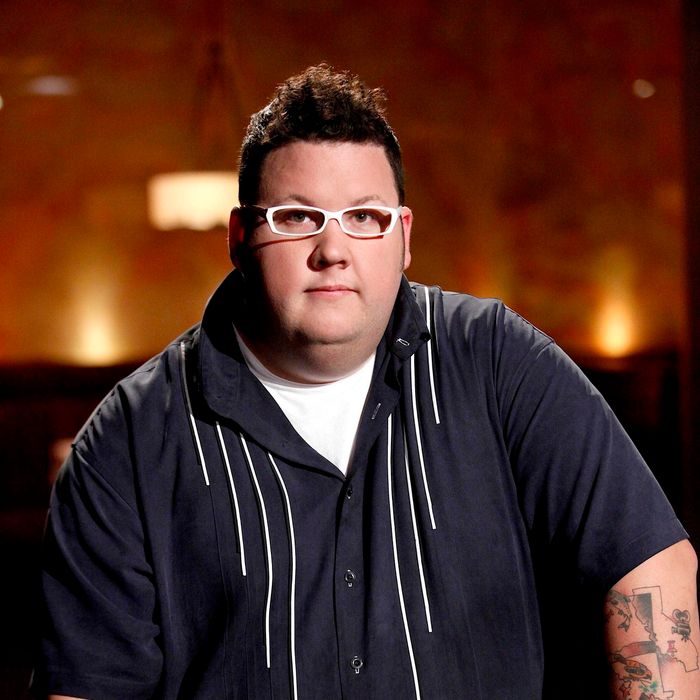 Graham Elliot.
Photo: Greg Gayne/FOX
TMZ reports— stay with us here— that a former waiter at Graham Elliot (the restaurant) is suing Graham Elliot (the chef) over tip money. Gregory Curtis says that he was forced to be part of a tip pool which shared his money with food runners, bartenders, bussers and cooks, while being paid less than minimum wage (which is only legal if your income is based on tips). To Curtis, this was both uncommon and a gross injustice. Is it?
As a diner who has been flinging money blindly after meals with no idea who the money was going to for most of our adult life, we frankly have no idea on either count. It's probably not uncommon, but more than that, it doesn't seem unjust, quite the contrary. It seems completely illogical to us that the probably Anglo guy who talks you up at the beginning of the meal deserves dozens of dollars while the probably Mexican guy who actually brings your food to you deserves nothing, for one. Beyond that, we don't know how far it should extend into the kitchen but as long as the owner isn't pocketing his workers' tips, we have no philosophical problem with everybody who contributed to the meal (notably the chefs who are why we are there 99% of the time) deserving a piece of our action. But we admit, this is something we probably really haven't thought about as much as almost any other part of the business. So we'd love to hear from you, especially if you have actual foodservice experience, as to how it really works, what you think is just— and what you think of this server's lawsuit.